Young Leaders in NYC Try to Make a Difference

Johnathan Burkan
Jonathan Burkan
Recently, the New York City Center for Charter School Excellence sponsored "A Good Read for Kids," a fundraiser to support libraries in NYC public charter schools. Jonathan Burkan, Senior Financial Advisor for Merrill Lynch, hosted the event which featured presentations by Renaissance Charter School students and an auction. Proceeds from the fundraiser will benefit the development of library resources at Renaissance Charter School (Queens), KIPP Academy Charter School (Bronx) and Carl C. Icahn Charter School (Bronx).
Paula Gavin, the CEO of the Center was present.
Jonathan Burkan believes deeply in the "value of giving back to the community, to the people who need it most."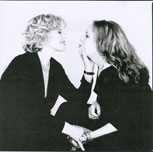 Erica Jong &
Molly Jong-Fast
(Nigel Perry)
Molly Jong-Fast
Molly Jong-Fast, the writer-daughter of Erica Jong, is on the board of the New York Public Library Cubs. She recently held a gathering along with her mother and David Patrick Columbia to increase awareness of the organization with supporters Judy Collins, Naomi Wolf, Bill and Judith Moyers, Amy Sohn, Billy Norwich, Dave Itzkoff, Daphne Merkin, Vicky Ward, Amanda Foreman, Cynthia Rowley, Hannah McFarland, Susan Cheever, Gigi Levangie-Grazer, Shirley Knight, Darius and Jill Bikoff, Patti Kenner and Ann Brashares present. Paul LeClerc made a guest appearance.
The Cubs is a children's membership program for families who annually contribute $1000 to the branch library. The New York Public Library Cubs is a board of philanthropic-minded young women and men with children who raise money to buy books for libraries in New York that are insufficiently funded—libraries in Spanish Harlem, the South Bronx and other neighborhoods. The focus of the Cubs is bringing books to children. Molly Jong-Fast says, "The point of this program is to support the neediest branch libraries."#