Susan Fuhrman Assumes Presidency of Teachers College, Columbia University
By Emily Sherwood, Ph.D.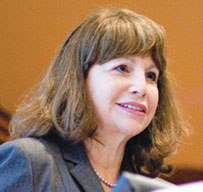 President Susan Fuhrman
(Ryan Brenizer/Teachers College)
Noting that "we've got to be the place which spawns ideas that animate education," Susan H. Fuhrman, a nationally recognized expert on public accountability and teacher excellence in education, has been appointed tenth president of Teachers College (TC) at Columbia University. She succeeds Arthur Levine, who served as TC's president for 12 years.
Dr. Fuhrman, who received her Ph.D. from TC in 1977 and most recently served as Dean of Penn's Graduate School of Education (GSE) where she is credited with strengthening its programs in urban and international education, will doubtless bring her strong sense of commitment to inner city neighborhoods with her to New York. Under Dr. Fuhrman's guidance, Penn's GSE created its own Pre-K-8 public school in West Philadelphia, the Sadie Tanner Mosell Alexander School, while crafting partnerships with three low-performing neighborhood schools. Indeed, among her mentors she names former Penn President Judith Rodin, from whom, she adds, "I learned what it meant to be a good neighbor." Would she forge similar partnerships in New York City? "Well, it's something that's in my blood," says Dr. Fuhrman forthrightly, though specific strategies would take time to plan.
Susan Fuhrman has a packed agenda for excellence at TC: closing the achievement gap, competing globally, improving math, science and engineering instruction to fuel future productivity, and encouraging experimentation with new teaching models that are informed by rich data are all on the front burner. And she is deeply concerned about how to inspire teacher excellence. Teacher salaries are too low, especially those in urban neighborhoods when compared to their suburban counterparts. And retention is a major problem: "Fifty percent of teachers leave in the first five years, not just for salary reasons. They have concerns about working conditions, being supported on the job, having good school leaders, having opportunities to learn…So it's not just a question of salaries attracting people to the profession. We need to create conditions that keep them in and support them and mentor them," explains Dr. Fuhrman.
To achieve the lofty goals she lays out, Dr. Fuhrman is mounting a "fundraising agenda." In order for TC to be the "leader of ideas," she'll be looking at increasing research monies that flow into TC, in part though creating financial incentives for people who write big grants and run large-scale research programs. "We need to draw people from across the school to apply for these grants; we need activities that bring people together around grant opportunities," adds Dr. Fuhrman. But one element not slated for increase is the doctoral program. "The advising burdens are very large and the quality of doctoral education suffers when there are too many doctoral students," she explains. Moreover, to provide meaningful financial support for doctoral students will require a more streamlined program.
On the other end of the spectrum, TC will probably be looking to renew an aging faculty as some members head toward retirement. "We will certainly be refreshing the faculty and hiring the very best people we can," she adds.
As Dr. Fuhrman ends the interview—it's 5 PM and she is on her way to yet another meeting—she talks ever so briefly about her own doctoral mentor at TC, former U.S. Secretary of Health and Human Services, Donna E. Shalala, now President of the University of Miami. "We were engaged in issues of school finance and equity in distribution of funds. We worked with clients in state legislatures, particularly in Connecticut, to develop remedies for court cases declaring school systems unconstitutional," explains Dr. Fuhrman. What she learned during her years as a student is a lesson that she will pass on to future students at TC: "We put our ideas to work, we worked with policymakers, and I came to respect them enormously." Indeed, the goal of turning research-driven ideas into pragmatic implementation to improve the education of America's youth is clearly what Susan Fuhrman is all about.#