Forging Bonds of Unity Among Young People Around the World
By Liza Young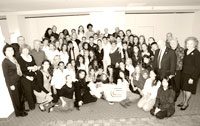 Forging Bonds of Unity
The audience was a mix of Americans from the Bronx, NY; Tucson, Arizona; Salt Lake City, Utah; Israeli, Druze and Arabs, but the bonds of friendship and empathy were ubiquitous at a recent luncheon at the Sutton Place Synagogue—under the leadership of Rabbi Allan Shranz—highlighting events at this year's America Israel Friendship League's (AIFL) Youth Ambassador Student Exchange (YASE), a program initiated in 1977 to further the AIFL mission of fostering friendship and cultural understanding between the two nations.
This year one hundred high school students from Israel and America had the opportunity to be a part of the culturally and intellectually rich program. Israeli high school students, accompanied by trained chaperones, were hosted by Americans in the Bronx, Tuscon, and Los Angeles, and Salt Lake City. Bracha Zvilich, chaperone from Rishon Le'Zion, described the wonderful opportunity students had to visit classes at Lehman High School in math, Italian, ceramics, and "feel life in NY" in the form of a Kicks game, ice skating, Broadway shows. She was touched by the fast-forming friendships between students Chaperone. Dr. Yael Neuman, a school psychologist from Tucson and chaperone for this year's trip, underscored bonds that have developed between the students.
Students from Ramat Gan and Rishon Le Zion called it a "once in a lifetime opportunity," having the chance to compare and contrast cultures and geography, and find common bonds.
As stated by William Behrer III, AIFL chief operating officer, of the recent participants in the exchange program, "the group has spent the last two weeks sharing experiences, learning from each other, and exchanging a diversity of viewpoints, but with a common goal: building friendship and understanding around a common set of values."
All students participated in leadership and diversity workshops, visited "Ground Zero" in New York and the Holocaust Museum in Washington D.C., and attended a reunion of past participants in the youth exchange program, held in Washington D.C. The common theme among the 120 alumni at the reunion was that the program had a positive, life changing impact on their perspectives, beliefs, and self-confidence levels. Dr. Dean Nicholas, who was a youth exchange student twenty years ago, presented the resounding effect of the program on his life. He attributed his choice of attaining a Ph.D. in Hebrew Bible and Ancient Near East from Hebrew Union College to the AIFL youth exchange experience, which also changed his approach to life: "…after that first trip abroad, I am now constantly looking for a new place to go, a new culture to encounter, a new food to eat…And wherever I go, it's the people I want to meet."
Dr. Charlotte Frank, chair of the executive committee of the AIFL, energetically moderated a discussion among the audience at the luncheon, where both alumni and current participants affirmed the powerful effect, which even carries over to family members. A parent of participant, Michal, from Salt Lake City, Utah summed it up appropriately: "When we raised money for Salt Lake City to participate in the program for the first time, people asked why not use the money to feed hungry children? But now you can see every penny as so well worth it…This has been a life-changing experience for me and my daughter and will make a difference for generations to come."#