Thanksgiving Dialogue
By Jill Levy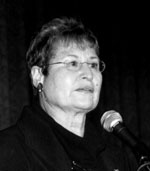 Jill Levy, President, CSA
My house has finally quieted down. The turkey and various leftovers have been distributed among our family who joined us for Thanksgiving. The stains have been removed from the carpets and the fingerprints from the walls have been washed away.
A few of our guests, family friends for more than 60 years from the old Bronx neighborhood left us with another type of leftover: We reminisced about our childhoods and young adulthoods. And in between the memories, we talked a great deal about the issues before us today—draft or no draft, the war in Iraq, the Middle East, the economy, fossil fuels and the environment, health care and yes, education.
While our experiences varied, we agreed upon one thing: We had all been taught, and learned, the basics. We were literate and could add, subtract, multiply and divide. Spelling was often a chore for those among us who did not love to read, but spell we can. Written compositions were arduous, but our skills proved to be more than good enough to get us through our college years. We all agreed that lab work in science gave us an opportunity to understand the concepts and become "creative" with chemistry, biology and physics. Some found basic art and music appreciation courses time to "horse around." Others, like myself, heard music that opened up a new world for us. Some discovered performing arts and found themselves wholly engaged.
Our thoughts turned to classmates who took commercial or general courses in high school as alternatives to a Regents or college track. We wondered how many of them would have dropped out of school altogether had they not had alternatives. And we spoke about today's students, their challenges and their opportunities, and the pressure to take and pass all the standardized tests required of them.
Bemoaning a new lifestyle of scheduled and prescriptive activities with little time for creative free play, the grandparents among us saw a different kind of intelligence arising, one that left less time for personal social development, but thoroughly immersed in technology. How would this phenomenon affect personal and political relationships? No, we couldn't come to consensus about whether this was a good sign or a bad one nor could we agree upon the merits of standardized testing. What we did agree on was that there was too much stress and competition in the lives of young children and their parents, and that too much stress and competition further isolate people in a society already suffering from alienation and too little community.
No sooner did the last guest leave, however, than my thoughts returned to the serious matter at hand, our contract, its implications for the future of education and most importantly for maintaining excellence in school leadership, retaining experience and encouraging the development of new leaders. I give thanks for family, friends and health. Soon, I hope we will all give thanks for a successor contract that is respectful and equitable.#
Jill Levy is the president of the Council of Supervisors and Administrators.