Lessons on Humanity & Fighting for What's Right: Reverend Al Sharpton Speaks at Oxonian Society
By Gillian Granoff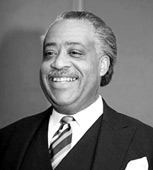 photo by Rebecca Letz
For Reverend Al Sharpton, an activist at the forefront of progressive politics for over ten years and ordained minister, speaking to an audience of progressive minded liberals is nothing new. Recently, the Reverend Sharpton captivated his audience of academics, media and professionals with wit, charm and irreverence at the Oxonian Society, www.oxoniansociety.com. Known for his brazenness and outspoken nature, I was not at all surprised by Reverend Sharpton's passionate evisceration of the current administration. Sharpton accused the administration of committing endless injustices in the name of what he termed "bedroom morality," focusing attention on policies designed to regulate individual behavior rather than finding remedies for poverty, education, racial inequality, health care, social injustice, and the widening gap between the rich and poor.
Sharpton argued that we need to redefine what is morality in our social life and political order. An obsessive preoccupation with dictating the private lives and domestic habits of individuals, threatens to reverse years of progress in the fight for civil liberties.
Sharpton summoned his listeners to be wary of "bible thumping" moralists who design social policies in the name of morality and religion. The Bush administration, Sharpton went on to explain, is using this distorted moral compass to prevent homosexuals from marrying and women's right to chose while allowing millions of Americans to live below the poverty line and continue to suffer. Sharpton traces the origins of this "bedroom morality" back to the 2004 Presidential debates that put an inappropriate emphasis on issues of gay marriage and Roe vs. Wade and forced more critical issues of poverty, race, and social justice to the periphery of the political dialogue.
The Bush administration's unilateral focus on "bedroom morality" as a political platform put pressure on Black churches to vote for him to save the institution of marriage and galvanized the attention of the religious right.
Sharpton criticized Bush and the leaders of the Christian Right and their "moral compass" of conveniently losing its sense of direction during the crisis of Hurricane Katrina. He accused President Bush's delayed and feeble response to the disaster as an act of criminal negligence, and believes proclamations that he was not informed of the extent of the devastation in time to be flat out lies.
Sharpton said the solution is the need for a new ethics in politics that replaces "bedroom morality with a morality of man to man." He urged Democrats to fight harder on issues that matter and to force the political dialogue to confront the broader issues. There is a disturbing complacence surrounding the civil rights movement, he said, and warned those concerned with the fate of progressive politics to take a stand before it's too late. He concluded his talk reminding his audience that Republicans are not alone in neglecting their duties as Americans. "I do not have a problem with taking a beating; I do have a problem with not fighting."
Whether a political strategy, or simply self-promotion, it is certain, however that whether playing the role of political activist, or spiritual leader, Reverend Al Sharpton's outspoken nature and talented liturgies make his arguments compelling and are rallying cries not only to all democrats, but indeed to all men.#
Reverend Al Sharpton formed the National Action Network in 1991 to fight for progressive, popular-based social policies by providing extensive voter education and registration campaigns, economic support for small community businesses, and by confronting corporate racism. That same year, Sharpton was stabbed in a Bensonhurst schoolyard. This represented a turning point for him. Eventually, he met and reconciled with his attacker.