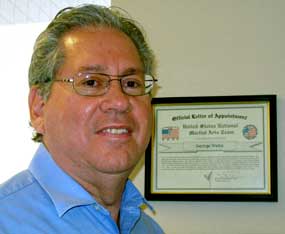 Corporate Contributions to Education
George "Vanilla" Weiss: Say Yes to Education
"My kids." The phrase recurs often as the founding member of SayYes To Education starts talking about what his nationally known program has been doing for inner-city youngsters over the years, and it seems possible the first couple of times that he means his own family—his two daughters, after all, have recently joined the Say Yes Board. But wait-—George Weiss, of George Weiss Associates, a money market firm, does indeed mean "his" kids, whom he regards as "family" in the broadest and most consistent sense of humanitarian commitment. He glows "talking the talk and walking the walk," and it becomes clear that what for others might be pro-forma philanthropy is, for him, deep involvement "to make a difference in the lives of others." The mission began years ago when, a sophomore at the University of Pennsylvania, he made a promise at a fraternity Christmas party for inner city youngsters that if they would stay in school, he would become their mentor and, if he made it in business, their benefactor. What's remarkable, of course, is that a young man, barely out of adolescence himself—and putting himself through college—would make such a vow. Well, the youngsters graduated from high school and George Weiss became a successful entrepreneur and kept his promise.
Say Yes to Education, coming up soon on 20 years, encourages inner-city kids—starting ideally in grade K—to stay in school by pledging to provide them with a free college education, tutoring, summer school, financial aid for their siblings and continuing education for their parents. This "holistic" approach distinguishes Say Yes from other assistance programs by widening the context and concentrating on elements critical to success: an encouraging family, health services (Harlem Hospital), legal assistance (Bingham McCutchen) and a supportive environment that doesn't make Say Yes students feel uncomfortable as haves among have-nots. Early on, George "Vanilla" Weiss (the kids gave him the moniker, which he adores) shrewdly understood that the most promising youngsters from "the hood" are unlikely to make it if they have to face constant jealousy, illness, or shame. He knew that to succeed, their parents would have to say yes—but how to get around fears and ignorance? The answer was vintage Weiss: simple but ingenious: extend opportunities to the parents as well—a chance to get a G.E.D. or go to a community college or trade school. As for siblings—they, too, would get some form of tutoring and scholarship assistance. "Say Yes brings families together," but Weiss is ever watchful, going on retreats with parents and teachers and inviting them to critique the program. Some youngsters just can't make it, he acknowledges, but he points out that data ("real, not cooked") overwhelmingly support his confidence. The kids and their families sense that "Say Yes is truly about caring and community."
Say Yes, which began at Penn and expanded to Hartford and Cambridge, is now in New York, where George Weiss is working with Dr. Arthur Levine, the president of Teachers College, Columbia, in trying to "recreate the [education] highway" in five Harlem schools, each with a strong principal and a location that doesn't put the kids far away from resources. He loves the challenge. Starting up in other cities meant one meeting, he laughs, but to get going in New York, he had to have 46 meetings. He can't resist saying it, though he won't sing or rap, which he knows how to do: "if you can make it in New York, you can make it anywhere." He appreciates the irony that the toughest city will probably prove the most generous. He cites the incredible offers he's already had from business people and professionals who are donating equipment, space, services, toys, food, and clothing. He hopes the spirit will be contagious. A visitor's eyes inevitably fall on the sleek red Japanese sword lying on a table. George Weiss, a big man with a big heart, was an Olympic gold champion in martial arts, a discipline he took up after an injury. Not a bad metaphor for his enterprise.#