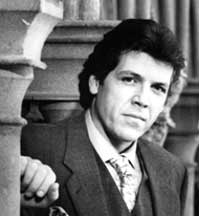 'Song of America' Concert Tour to Kick Off Library of Congress Road Show
What do you get when you bring together a pre-eminent historical scholar and America's leading baritone to design a program celebrating American creativity? The Library of Congress' "Song of America" tour, a 12-city, seven month concert tour beginning this November, is the brainchild of Librarian of Congress Dr. James H. Billington and internationally acclaimed musician Thomas Hampson. Scheduled for New York City's Carnegie Hall on January 19, 2006, the concert will feature Hampson—who is renowned for his versatility in performing opera, operetta, musical, oratorio and recital —singing a repertoire of American songs written by such poets and composers as Stephen Foster, Walt Whitman, and Aaron Copland.
The "Song of America" tour, an unprecedented road show for the venerable Library of Congress, is designed to bring the extensive resources of the Library to the people "so that the community knows that this Library belongs to them. It's not just an entity that sits in Washington, DC. It's a repository of resources that very often are being underutilized in communities," says Jan Lauridsen, Assistant Chief of the Library's Music Division and Co-Chair of the Song of America tour. The tour will begin by showcasing American song "because so much of the American story began with song interpreting the lives, courage and spirit of the people who founded this country," adds Lauridsen.
Hampson, who is also a gifted storyteller, will conduct master classes and hold open rehearsals for students in addition to his January 19th concert performance. "Tom has a burning need to communicate how important it is to notice those students early on who have a desire, interest, intellect, and curiosity to pursue the creative arts," notes Lauridsen. The Library's educational outreach staff will conduct day-long Teacher Institutes to introduce students and faculty to the Library's extensive on-line performing arts resources—some "ten million items, including the papers of Leonard Bernstein and Aaron Copland, folk recordings, documents, and more," according to Lauridsen. Because music and poetry are inextricably linked to American society's greatest events and struggles, the Library aims to help educators "show how song and verse served a social and political purpose in our country's history," explains Lauridsen. Thematic units and teaching strategies, with on-line materials for future reference, will help teachers incorporate the Library's archives into their lesson plans. "With so much of music curriculum being stripped out of the public school system, this gives us an opportunity to carry the message that it is important to repatriate the study of music and the arts in the K-12 system," adds Lauridsen.
The "Song of America" tour will mark the first phase of a broader "Creativity Across America" campaign being launched by the Library of Congress. Other planned events, which will vary according to city and will be scheduled based on each city's own calendar of activities, include poetry workshops, a film series showcasing the Library's motion picture collection, a StoryCorps project that will record oral histories from everyday Americans using the model of the Works Progress Administration (WPA) Oral History Project of the 1930's, and conservation workshops that will help people preserve valuable mementoes such as books, photos, letters, newspapers and videos so that they may be handed down to future generations as historical archives. The Library will leave each city with a permanent exhibition portable enough to be taken on the road.
As the home of the Copyright Office of the United States, the Library of Congress has yet another message in mind for the American public through this multi-faceted national tour: a celebration of the creative and inventive spirit that is the cornerstone of our cultural history. "We're in a country where we have the freedom to create–to say and write what we want," explains Suzanne Hogan, Senior Advisor to both the Library and its James Madison Council, a private sector advisory body to the Library and Lauridsen's "Song of America" co-chair. In fact, Lauridsen encouraged her eight year old niece, Hannah, to copyright an award-winning poem she had written. "The message back to Hannah was, 'You own your words. Now someone has to seek your permission if he or she wants to duplicate them,'" says Lauridsen. Encouragement of individual creativity in all its forms, whether in business, cooking or the arts, is the Library's ultimate goal. Hogan knows this from personal experience. The child of a military family, she traveled extensively as a child and found that music helped her to develop self-esteem and engage with peers. If she and her colleagues accomplish their goal, "There is going to be a spark of inspiration or validation that occurs when some individual who is sitting in the audience says, 'They understand what I'm about,' and then he or she proceeds to go out there and do something well!"