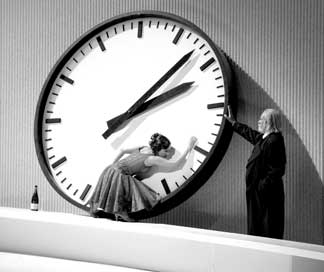 CAnna Netrebko and Luigi Roni in La Traviata
The Salzburg Festival: La Traviata Sets New Gold Standard

By Irving Spitz, Music Editor

Special from Salzberg: Verdi's La Traviata is performed so often that it's a challenge to present something new. Producer Willy Decker and director Wolfgang Gussmann achieved this in a dramatically coherent and visually compelling way. The plot is well known. The courtesan, Violetta, falls in love with Alfredo. Unbeknown to Alfredo, his father, Giorgio, compels Violetta to break up the affair because of the shame of this illicit liaison on his family. The enraged Alfredo is led to believe that Violetta jilted him. The couple reconciles but Violetta dies at their reunion.

In the prologue, Violetta staggers across the huge stage left stark except for a large clock in which the minutes and hours moved relentlessly forward. This implied that Violetta's short life would soon end. Hovering over the clock was her physician, Dr. Grenvil who usually only makes a brief appearance at the opera's end. Here Grenvil was ominously present throughout as Violetta's messenger of death. Gussman and Susana Mendoza dressed the female chorus in contemporary male attire so that only Violetta, in a stunning red dress, stood out. With the arrival of the guests, the revelry began. Violetta was hoisted onto a couch, drinking and flaunting her body. Grenvil handed her the flower which she gave to her ardent admirer, Alfredo, at their initial meeting, telling him to return when the flower withered.

In Act 2, the red dress was hung prominently on the stark wall. She had exchanged this and Alfredo his formal suit for floral garments. The same patterned fabric draped the couches as well as the clock suggesting that for the present, time was standing still. This was only short-lived. After Giorgio forces her to give up Alfredo, Violetta, dramatically pulls the drapery from the couches and the clock, dons the red dress and reluctantly returns to her previous reckless life. Spread across the stage was a huge pictorial floral arrangement, which gradually faded in keeping with the change in atmosphere.
The ever-present clock was again prominent in the next scene where it served as the gambling table. This brilliantly set the stage for Violetta's denouncement by the jealous Alfredo. Flinging his gambling winnings at Violetta, he even dramatically shoved part of them up her red dress. The menacing chorus approached Alfredo as the curtain fell. Instead of the usual intermission before Act 3, the prologue began immediately with Grenvil motioning the chorus to retreat, leaving the stage empty except for himself and the dying Violetta. At their final reunion, Violetta presents Alfredo with her portrait. This took the form of the same flower given to her by Grenvil, but this time Alfredo would not return. All these subtle nuances worked brilliantly and represented new insights into this popular Verdi favorite.

What of the singing?
With a face of a movie star, the body of a supermodel and the voice of an angel, Violetta sung by the Russian soprano Anna Netrebko, absolutely stole the show. At center stage throughout the performance, she was also a consummate actress as seen in her vivid portrayal as courtesan, passionate lover, broken woman and tragic dying figure. She carried off the aria concluding Act 1, treacherous even for the most accomplished soprano, with aplomb. With his lyric tenor, Rolando Villazon, as Alfredo, was equally effective as ardent and then enraged lover and remorseful supplicant. The passion between them could be felt. American baritone Thomas Hampson took the challenging role of Alfredo's father. His beautiful sonorous baritone easily filled the huge house. His stage demeanor was stiff and uncomfortable in his initial meeting with Violetta. This was expected considering his difficult task in breaking up the lover's liaison. His confrontation with Alfredo was violent. Bass Luigi Roni as the ever-present Grenvil, sang his small role confidently. Carlo Rizzi lead the Vienna Philharmonic in this emotionally charged performance. This inspiring production represents a landmark achievement for the 2005 Festival.#