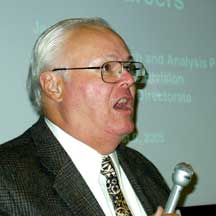 CCNY, NASA & DoD Outreach Programs Train Young Scientists from Middle School to College
City College is the site of several major research centers, institutes and a consortium that have placed CCNY at the forefront of photonics and laser technologies research and development. Two of these are the NASA Center for Optical Sensing and Imaging (NASA-COSI); and the DoD Center for Nanoscale Photonics (DoD-CNP).
NASA-COSI was established with support from a five-year $6 million University Research Center Program grant from the National Aeronautics and Space Administration. It is headed by myself and Dr. Sam Ahmed, who is the Herbert G. Kayser Professor of Electrical Engineering at CCNY. NASA-COSI's mission is to develop enabling optical technologies, laser instrumentation and methods for sensing and imaging of the Earth and the environment. It is also designed to recruit and train underrepresented minority students and women at the high school, undergraduate and graduate levels and encourage them to enter these important fields.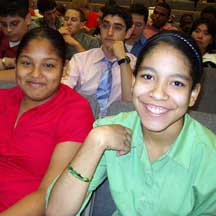 Febiana Gonzalez & Elizabeth Paulino
The Center for Nanoscale Photonics, which I head, was established at CCNY under a five-year, $4 million grant from the U.S. Department of Defense (DoD) to fund advances in photonics at the nanoscale. Researchers are seeking to merge and combine photonics and nanotechnology in order to keep the U.S. at the forefront of these vitally important technologies. Like NASA-COSI, the DoD Center for Nanoscale Photonics includes an important and innovative education and outreach program to promote student participation in research and increase the number of science, mathematics and engineering graduates, including members of underrepresented minority groups and women.
If the U.S. is to maintain its technological supremacy, our nation must lead in cutting edge fields such as nanotechnology and photonics. Nanotechnology involves objects that are measured in nanometers, which measure a billionth of a meter, or a millionth of a millimeter. A major goal of nanotechnology is to create tiny devices—called nanomachines—capable of manufacturing other objects one atom or molecule at a time and of processing information on a molecular scale.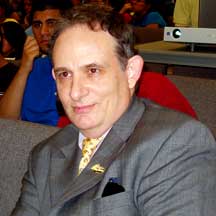 Photonics involves the use of small units of light called photons, which have unique properties, can be directed easily and emit short pulses on the order of the molecular timescale measured in picoseconds (trillionths of a second), and femtoseconds, which are a thousand times faster than picoseconds. Photonics techniques are used to study biomedical systems and offer great promise for quick, accurate and non-invasive diagnosis of various types of cancer. Other applications include a broad range of studies in biomedical optics as well as primary events in photosynthesis, vision and tissue diagnosis; and studying fundamental energy transfer processes in liquids, semiconductors and solids.
It is vitally important for America to utilize the talents of all of our people including minorities and women—in these research endeavors. That is why NASA-COSI and DoD-CNP, in cooperation with CCNY and several other colleges in the New York City area, have incorporated major outreach programs to students in the city's schools that offer them the opportunity to conduct research with faculty mentors. The programs support students at middle schools and high schools, as well as at the undergraduate and graduate levels, in order to encourage them to pursue careers in mathematics and the sciences.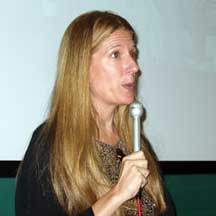 Recently, the fruits of these outreach efforts were on spectacular display at CCNY during NASA Research Day, whose theme was "Becoming a Scientist: The Pathway from Middle School to College." This event was organized by Dr. Manuel Zevallos, who is the coordinator of NASA-COSI and the Deputy Director of CCNY's Institute for Ultrafast Spectroscopy and Lasers.
Sixteen students in CCNY's NASA-COSI and DoD-CNP programs, along with 40 students enrolled in similar programs at six other participating colleges, presented their research results. They also heard presentations by Dr. Jack A. Kaye, Director of the Division of Research in the NASA Office of Earth Science, whose topic was "From Science Classroom to NASA Careers"; and Dr. Laura Danly, Senior Manager of Astrophysics Education at the American Museum of Natural History, who spoke about "NASA and the Exploration of Space: Latest Achievements."
Typical of the outstanding students involved in CCNY's research outreach programs are Elizabeth Paulino and Febiana Gonzalez of the Mott Hall Middle School; and Caesar Pereira of Archbishop Stepinac High School. Ms. Paulino and Ms. Gonzalez reported on their research project entitled "Fluorescence and Absorption Spectra of Bio-molecules"; while Mr. Pereira described his research involving "Synthesis and Study of Fluorescence Properties of Cr-Doped LilnSiO4-Ca2Sio2"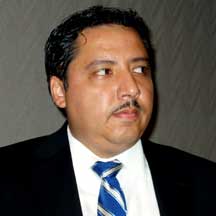 Ms. Paulino and Ms. Gonzalez both graduated from the Mott Hall Middle School in June 2005 and are enrolled in the NASA-COSI outreach summer research program. They also conducted research at CCNY last year under the Student Apprentice Research Program. Last year, Ms. Paulino won first place along with two of her classmates in the NASA Student Involvement Program Science and Technology Journalism Competition. Their video project, entitled "Fashions in Space," described how different fabrics can block radiation that might be harmful to astronauts in space. She will attend the Manhattan Center for Science and Math H.S. in the fall, and has a strong interest in computer science.
Ms. Gonzalez, a native of the Dominican Republic, will attend the Urban Assembly Business H.S. for Young Women this fall. Her academic interests include biology and earth science.
Caesar Pereira graduated from Archbishop Stepinac H.S. last June and is a second-year NASA SHARP student at CCNY. He will attend Cooper Union College in the fall and is planning to major in mechanical engineering. Mr. Pereira was selected to attend the recent National Youth Leadership Conference in Washington, D.C., where he had the chance to learn about the inner workings of the government and meet with Senator Charles Schumer and other government officials. His awards include the New York State Scholarship for Academic Excellence and the U.S. Air Force Award for Technology.
Elizabeth Paulino, Febiana Gonzalez and Caesar Pereira epitomize the success of CCNY's outreach programs in cooperation with NASA-COSI and the DoD Center for Nanoscale Photonics. We are extremely proud of them and their fellow students.
Outreach programs such as those offered at The City College play key roles in offering students like Ms. Paulino, Ms. Gonzalez and Mr. Pereira the chance to utilize the full measure of their talents and fulfill their scientific potential. Our nation's technological standing will depend in good measure upon the success of students like these. They are a terrific investment in America's future, and we are extremely grateful to NASA and the DoD for their strong support!#
Dr. Robert R. Alfano is the Distinguished Professor of Science and Engineering, The City College/CUNY.