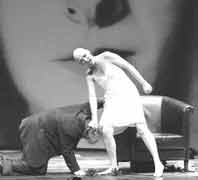 The Salzburg Festival Part 2
Korngold's Die Tote Stadt:
Let's Hear This Forgotten Masterpiece More Often!

By Irving Spitz

One of the memorable highlights at the recent Salzburg summer Festival was a performance of Die Tote Stadt (The Dead City), an opera composed by Eric Wolfgang Korngold. Pronounced a musical genius at a very early age by no less than Gustav Mahler, Korngold composed this opera when he was only 22 years old. It was widely performed in Europe, particularly in Germany under the baton of leading conductors (Otto Klemperer and George Szell) with prominent vocalists (Maria Jeritza, Lotte Lehmann and Richard Tauber) but with the coming to power of the Nazis, this opera was banned. Meanwhile Korngold had left Europe and was working in Hollywood where he won several Oscars for composing film scores for Warner Brothers. Possibly because of this foray into Hollywood, his reputation as a serious classical composer suffered and after his death, his work fell into complete oblivion. Recently there has been a movement to resurrect his music and the current Salzburg festival staged not only Korngold's Die Tote Stadt but also gave performances of several of his other works.
Die Tote Stadt is a Freudian tale set in the Belgian city of Bruges, not the real Bruges, but a city in the imagination of Paul who is the opera's chief protagonist. The gloomy atmosphere of Bruges reminds Paul of death and his beloved wife Marie. The libretto relates how he tries to escape from his obsession of his dead wife. Paul lives alone except for his devoted housekeeper Brigitta. One room in his house is a temple shrine to his beloved deceased wife. Here he preserves her mementos including photographs, a lute and her portrait together with a braid of her golden hair. One day he meets a young dancer, Marietta, who bears a striking resemblance to his late wife and he invites her to his house. Paul's friend Frank warns him that he is playing a dangerous game but Paul will not listen. Indeed the worldly and fun loving Marietta is the opposite of Marie. Marietta then leaves Paul's house to meet with her theatrical group. Paul falls asleep and then his hallucinations and nightmares begin. These continue until almost the end of the opera. The dead Marie steps out of her picture to be replaced by Marietta. In Act 2, Paul wanders about near a canal close to Marietta's house seeking her. She soon approaches with her friends and is berated by Paul but nevertheless she returns with him to his house. In Act 3, a violent argument ensues and Paul in his hallucination strangles Marietta with the braid of Marie's hair. He then awakens from his dream and his housekeeper comes in to announce that Marietta has returned. But now Paul has finally freed himself from his past. Finding Paul totally disinterested in her, Marietta leaves.

This new production was directed by Willy Decker with sets by Wolfgang Gussmann. The staging in the Kleines Festspielhaus was magical and intriguing. The dream sequences in particularly were most arresting. They began with the back wall of Paul's room disappearing as he fell asleep in an armchair with the room becoming distorted. Decker brilliantly succeeded in blending reality and the dream world.
This opera requires a huge orchestra with much percussion as well as a large choir. It contains two hit numbers, Marietta's lute song and a waltz in Act 2 sung by Frank. The music is late Romantic and reminiscent of Richard Strauss and Puccini. It is not surprising that Korngold was dubbed the "Viennese Puccini." The Vienna Philharmonic under Donald Runnicles gave a riveting performance and succeeded brilliantly in bringing out the melodic harmonies.

Tenor Torsten Kerl took the role of Paul and succeeded in bringing drama, vocal power and pathos to the arduous role. Soprano Angela Denoke, as Marietta and Marie displayed not only vocal prowess but also a flair for acting and dancing, a trait not many singers possess. The only non-German in the cast, Danish baritone, Bo Slovhus, was most compelling in the role of Frank. Mezzo Daniela Denschlag, sang the role of Paul's housekeeper Brigitta with great sensitivity. This performance led credence to the belief that Die Tote Stadt is one of the great-unperformed operas of the 20th Century. It certainly deserves a wide audience and we should hear it more often.#