Guarneri Quartet: Michael Tree Continues to Branch Out Performing and Teaching
By Joan Baum Ph.D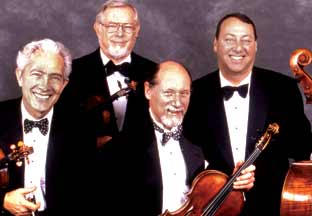 The members are (l-r): Arnold Steinhardt (violin), John Dalley (violin), Michael Tree (viola), and Peter Wiley (cello)
It's relatively rare that famous musical artists credit their audiences and students for helping to educate them, but then Michael Tree, the violist in the internationally renowned, much celebrated Guarneri String Quartet seems to be an unusually humble and gracious musician who wears his expertise with a confidence borne of a long and successful career and a continuing love for what he does. Indeed, 2004-2005 marks the group's 40th anniversary and he, Arnold Steinhardt, John Dalley, and Peter Wiley seem to be everywhere, giving special performances, such as the free and open master classes and rehearsals that took place last month at Lincoln Center, and receiving more tributes – they will receive the Ford Honors Award from the Musical Society of the University of Michigan this month. Noting that he left New Jersey at the age of 12 to attend the Curtis Institute of Music in Philadelphia, where he studied with Efrem Zimbalist, Michael Tree modestly disavows the term prodigy – even though his 1954 introductory concert at Carnegie Hall was described by the New York Herald Tribune as "the most brilliant debut in the recent past"—and adds that the Institute accepts even younger players. With affection and pride he indicates that until he was 12 his father, a professional violinist and a teacher, "seven days a week" in their home, had been his sole instructor. Obviously, his legacy to his son was not only performing but teaching.
Michael Tree also puts in a good word for Philip Roth's Newark, which was his own home town as well (he is a year younger than the famous author) and wistfully looks back to a time when his neighbors all had pianos, children were given music lessons and families listened to classical music on the radio. Yes, arts programs must be in the schools but more essential music should be in the home. Music is music and knows no ethnic divisions—it belongs to and should be loved by everyone. To that end, Michael Tree says, the Guarneri try to accommodate younger audiences, as they do in Philadelphia, and talk and play for the kids, even though the concert's over.
Although there have been several significant mentors in his life, Michael Tree still gets a kick from the chamber music "take no prisoners," nitty-gritty, "strong opinions" crowd, usually composed of sharp, outspoken amateur musicians. Their appreciation, their criticism, drive him crazy in a lovely way, by causing him to reflect on his performance. Artists should serve music as it is written but they also are interpreters. Leave it to a savvy chamber music audience like the Washington Irving stalwarts or the University of Maryland College Park regulars the Guarneri has been visiting once a month for the last 20 years "to keep the quartet on its toes." "The score in measure 5 has a dot—you didn't follow the crescendo marking in measure 70—why!" One of the reasons the Quartet loves doing the Maryland concerts, rehearsals and master classes is to get such comments from such a dedicated following. The Washington Irving audiences are, well, a little more "willful," but the Maryland folks "throw us every time we're there." Audiences know beforehand, of course, what the Quartet will be playing and they prepare. "Oh do they ever!" Significantly, at Maryland "they" are: undergraduates (all majors), graduate students, faculty, townspeople, "it's an "open house" with the same people showing up month after month, year after year. What a boon these visits are for the audience, Michael Tree says, because they're like flies on the wall, getting to overhear musicians arguing about interpretation.
Though he's already on the faculty of the Curtis Institute of Music, the Juilliard School, the Manhattan School of Music and the University of Maryland, Michael Tree is about to add Bard College to his roster. Slow down? Impossible. "I can tell you where I'm going to have lunch for the next two years," he laughs. And it's true because the Guarneri must schedule cities and repertoire well in advance. #