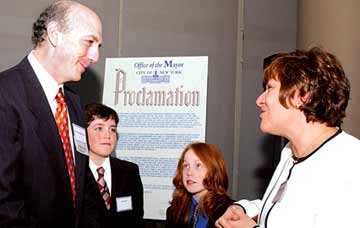 From L to R: Dr. Jonathan D. Salk, sons Ben and Hugh, and
Dr. Selma Botman, City University of New York Executive
Vice Chancellor for Academic Affairs.
Celebrating the 50th Anniversary of the Salk Vaccine With Jonathan Salk
By Joan Baum, Ph.D
One of the best compliments his famous father ever got, Dr. Jonathan Salk recalls, was being told that people didn't know about him, polio or the vaccine. The point, of course, is that infantile paralysis or poliomyelitis, "the most notorious disease of the 20th century," until AIDS, the disease that crippled Franklin Delano Roosevelt in 1926, was, by the time of Jonas Salk's death in 1995 practically unknown, a viral threat that had been all but eradicated—a spectacular tribute to the genius of the man who in 1955 ended a national nightmare.
Only those of a certain age remember the terror of the times, the epidemics, the iron lungs, the quarantines. But on April 12, 1955, when Jonas Salk, using donations from the March of Dimes, announced that he had a cure (Jonathan was five at the time), not only could parents sleep at night, as the papers reported, but science and public health policy took an important turn, resulting in life-altering initiatives such as the Vaccination Assistance Act of 1962, which would protect school children for free against one of the world's greatest scourges. But as Dr. Jonathan Salk emphasizes—he is board certified in both child and adolescent psychiatry and an Associate Clinical Professor of Psychiatry at UCLA—the significance of the Salk Vaccine had even wider implications, which are not fully appreciated, some of them touching on his own areas of interest in human interaction and behavioral development.
The extraordinary success of the Salk Vaccine, Jonathan Salk points out, and the campaign launched by the March of Dimes, "dramatically" changed perceptions of science and medicine. As his father would and did say—the breakthrough was due to collaborative efforts—scientists working with him and with hospital staff and volunteers—an army of the dedicated who brought off the largest field trial in U.S. history, the inoculation of over two million children. Indeed, the 50s were the golden age of medical science. They loved their father and knew he was a genius, Jonathan Salk says for himself and his two brothers, who also went into medicine, but the greatest gift Jonas Salk gave his children—and the world—was an understanding that medical research should "make a difference," affect public health and bring about social justice. The establishment of the Salk Institute in La Jolla, CA, was an extension of this belief, a place that Jonas Salk regarded as a center to "address problems of humankind." Thus it was, as Jonathan Salk recalls, inevitable that he himself would go on for an M.D.—which in his family was like getting a B.A. and that he would regard the discipline of studying medicine as "good background" for whatever else he may want to do. In fact, an earlier love of Jonathan Salk's was music—playing piano and writing songs, many about social justice—an inheritance from his mother, a talented amateur musician who was a psychiatric social worker, and also from his famous father who encouraged his children to have "vision" and to see its multiple effects in the arts as well as in the sciences. In fact, Jonathan notes, not many people know that the Salk Institute, which was designed by Louis Kahn and is considered one of the masterpieces of 20th century architecture was the result of a "partnership" between Jonas Salk and the famous architect. His father was in on the design. How fitting, therefore, that Jonas Salk was recently honored at CCNY, from which he was graduated, the CUNY college that can boast both a medical and architectural school. Of course, in honoring the collaborative nature of scientific discovery, Jonathan Salk does not mean, inadvertently, to diminish the heroic achievements of his father, who faced adversity with great courage. People, then, he points out, could not see the "big picture" behind his father's research, the fact that a killed virus could be effective. Thus, Jonas Salk's story is a wonderful story of the 50's, before attitudes about scientific research turned cynical, skeptical, suspicious. In his own teaching—working with psychiatric trainees and also with parents in his children's school, Dr. Jonathan Salk tries to carry on his father's rich and challenging heritage—to integrate research and concern for human beings, to bring, maintain, and enhance the human element in all inquiry.#