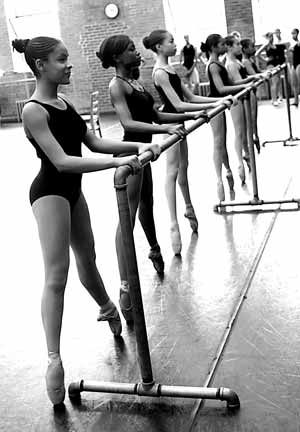 "Dancing Through Barriers" at Dance Theater of Harlem: An Interview with Keith Saunders

By Joan Baum, Ph.D.

As its special contribution to the annual benefit for the Emergency Fund for Student Dance recently, which took place at The Ailey School on West 55th Street, students in the Dance Theatre of Harlem's (DTH) unique artistic, educational and social outreach program, Dancing Through Barriers (DTB), once again were on their toes, performing pieces set to the music of Bach, Norah Jones and Philip Glass, and ardently faithful to DTH co-founder Arthur Mitchell's mission to do in dance "what Jackie Robinson did in baseball"—namely, disprove the myth that blacks could not do classical ballet. In 1969 Mitchell, who studied with Balanchine became premier danseur with the New York City Ballet. Deeply moved by the death of Martin Luther King, Jr., he and the late internationally known ballet artist Karel Shook decided to establish a school in tribute to Dr. King that would inspire African-American youngsters to see dance as a way to generate pride and self-respect. The only part of the mission that has changed over the years is that DTH, still dedicated to people of color, now also reflects the full diversity of the city.


DTH ballet master Keith Saunders continues the tradition. A onetime principal dancer with DTH, then faculty member, Saunders, who has recently taken over the directorship of DTB, looks on with intense interest as faculty member and resident choreographer Robert Garland leads youngsters in rehearsal: "One more time, gentlemen, some steps are funky there." The boys comply with yet another "run" of "New Bach," turning, jumping, paying homage to the Baroque, with an admixture of "the Harlem shake." The girls join, and then Saunders steps forward to provide pointers for the Jones and Glass pieces, which he has choreographed. He enjoys the challenge of working with the kids, he says, whose dedication may not yet be matched by their "muscular memory," but whose focus improves with each run. Indeed the challenge is great since Saunders has been changing the Glass piece daily. Both he and Garland note that the youngsters are not used to the Ailey space with its rubberized floor to accommodate barefoot dancing and are trying to figure out how to manage slides.

Saunders, who went to Harvard when he was 18, got interested in Afro-American and modern jazz dance, after taking just one course, and was eventually accepted at DTH, where he rose through the ranks. He is proud that starting late, he succeeded. He also points out that the timing was right. America in the 70s, largely due to Baryshnikov, was rediscovering ballet. Marry that development in the arts with Arthur Mitchell's "fantasy" of building a "Noah's Art" whereby each country in the world would sponsor two dancers as part of a world-wide celebration of neo-classical ballet, and DTH would find itself uniquely positioned to embody and export the founders' dream of a multiethnic school and ensemble. Indeed, DTH became the first ballet company to be invited by the US Information Agency to perform in the Soviet Union and the first major performing arts troupe to visit South Africa.

DTB, the educational in-house division of DTH formerly incorporated into DTH in 1992, is a comprehensive and certified educational and community outreach initiative, with age-appropriate and tailor-made collaborations with departments of education, providing weekend and after school opportunities for youngsters 10-17 to study dance, and multi-week weekend residencies to study under DTH faculty. Outreach activities are as imaginative as they are various and include lecture demonstrations on classical ballet, live action and videotaped performances of the DTB ensemble and staff that can be adapted for individual and classroom use, training sessions for dance teachers and academic faculty, a master class, introductory classes in movement for students, for their parents or guardians, athletic workshops, field trips and summer intensives, not to mention sessions in creative writing, discussions of basic anatomy, physical therapy, allied arts, nutrition, and stagecraft. That's the curricular part. The heart of DTB and DTH can be heard beating miles away. When DTH was experiencing financial difficulties a year ago, Saunders recalls, alums responded from every professional walk of life—dancers who had become lawyers, doctors, executives. They sent not just money but heartwarming letters, testimony to what DTH meant in their lives in the broadest sense of education. Talk about being on point! #

For information about DTH and DTB see www.dancetheatreofharlem.org.