Zydeco Music & Jamming with Mama
Linda Castle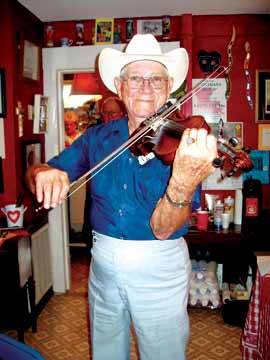 Murphy Smith
Zydeco, a foot-stompin', hand-clappin' music is an integral part of the culture of Lafayette, Louisiana. It is considered black, Creole music, with French lyrics and comes from a song called "Les haricots sont pas sale" or "The snap beans aren't salty." Historically, when people talked about "les haricots" music it was slurred in their speech to morph into "zydeco." Musicians played during a breakfast recently at Café Des Amis in Breaux Bridge, Louisiana, which bears the signatures on the doorposts of Tim Zagat as well as Rauschenberg. Local art is displayed on the walls while patrons munch on local delicacies such as spicy crawfish stuffed cornbread, fried alligator, various flavored grits, sweet beignets dusted with powdered sugar and boudin patties (spicy meat).
Meanwhile, dancing to the beat, men and women are doing a brisk variation of a two-step while musicians play the accordion, guitar (bass and regular), a washboard (frottoir), drums, a triangle (fer), accompanied by a singer.
In the afternoon, we go on to a jam session of Cajun music. It's a relaxed place for music lovers to just drop in and practice, enjoy, brush up on old songs, learn new ones and chat in-between. Mama Redell has spicy jambalaya on the stove with white rice and pork rinds, self-service in the kitchen while out in front, CDs of Cajun music along with souvenirs are sold. Called Louisiana Heritage and Gifts in Lafayette, it is definitely worth a stop.
Participants include violinists, accordion players, and guitarists. Some players are farmers in this area where rice and sugar cane proliferate. The group gradually swells to about 25 in a small room where about 20 are players who congregate every Saturday, while during weekday eves, lessons are given. Most of the players don't read music; they learn by just playing along. The accordion player chooses the song and sings loudly while the musicians all tap their feet in time.
Linda Castle lives nearby in Arnaudville, Louisiana. Originally from San Francisco in the biotechnology field, she has traded the hectic pace of the big city for jamming with her violin for over three years.
Murphy Smith, age 76 comes to jam from Eunice. Originally an oil worker, he's been coming here for two years. His first fiddle, made from a cigar box when he was seven years old, had strings made from window screens. He recalls his abject poverty and how proud he was when his daddy finally bought him a fiddle for $5.
As we left, two young men were jamming alone on the porch: Joshua Richard on leave from the marines was fiddling at a fast pace with fancy finger work while Aaron Chesson accompanied him on the accordion. They had formed their own group called The Hadiah Playboys.#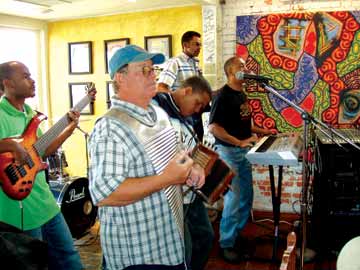 Zydeco Band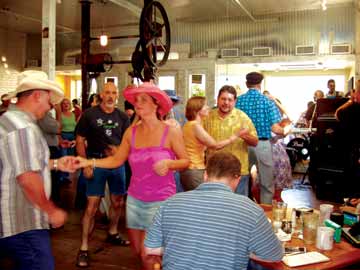 Dancing during breakfast at Café Des Amis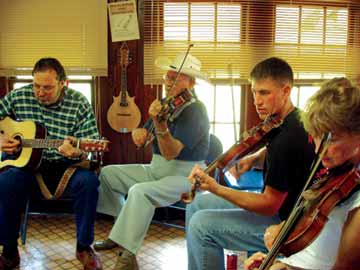 Jam Session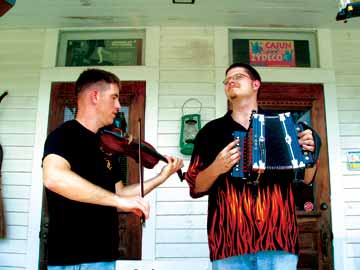 (l-r) Joshua Richard & Arron Chesson
Tub Bass