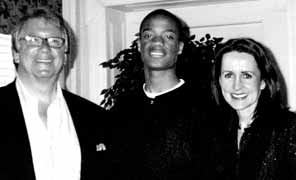 (l-r) Director Lewis Burke Frumkes,
2nd Place Winner Mustapha Palmer, & Author
Carol Higgins Clark
Marymount College's Mortimer Levitt Essay Writing Contest
Mortimer Levitt is 98 and still inspiring thousands. Not only does Mr. Levitt provide philanthropic support to educational institutions, he inspires students and educators alike with his wit and his passion for living.
Named in his honor, the topic of this year's Mortimer Levitt Writing Contest of Marymount College was a quote from his latest book 96 and Too Young to Die: "Endless trouble is the price we must pay for the gift of life, there are no exceptions."
These words generated essays which were intense and touching, as indicated by Director Lewis Frumkes at the recent awards ceremony for winners of the contest. Professor Frumkes explained that he chose not to read any essays aloud as they are of a personal nature, with many students requesting their essays not be read aloud.
Guest speaker, Francine Prose, author of eleven critically acclaimed novels and a finalist for the National Book Award for the novel Blue Angel, shared her valuable perspectives on writing.
She began by recalling a hesitation to give advice to contest winners, but finding a compromise by providing a list of 10 recommendations that she feels is key to being an excellent writer. Among these are "Read everything from George Orwell to the New York Times" and read from the point of view of the writer; that is, consider how the writer created the work.
Also, Prose advises, be observant and alert of surroundings. Listen carefully when communicating with others, paying attention to how something is being said, to the language used. She went on to point out the importance of having the courage to write what you notice. Ms. Prose emphasized that we keep in mind that there's something each of us knows which no one else may know. We each have unique experiences and perspectives and the more this comes out in writing, the more "valuable and beautiful it will be."
What was also evident at the awards ceremony was the value of writing powerfully with an economy of words.
Mr. Frumkes indicated that first prize winner, Matthew Lopez, was able to successfully write the essay using relatively few words—350 out of a possible 500—but that Matthew had related to him that it took him a while to realize the significance of Mr. Levitt's words. The end result according to Mr. Frumkes was a "stylish and poetic piece."
Invited guest Dr. Gurcharan Singh, Professor Emeritus of International Studies at Marymount College, took a few moments to emphasize the power and also the difficulty of writing something that gets the point across without any wasted words. He recalled the story of Lord Byron who won first place in an essay contest whose subject was "Why the color of wine was red rose?" Lord Byron's one sentence response —"Master saw the water and it blushed"—won first prize in the contest.
Illustrating the time involved in being economical, yet powerful with words, Professor Singh related the story of Winston Churchill who during World War II wrote a letter to the President beginning with "I wish I had more time to write a short letter."
All winners of the contest received certificates of achievement as well as generous bonds, sponsored by Mr. Levitt, and of course the chance to respond to the inspiring words of this charismatic and philanthropic gentleman.#