The Berlin Philharmonic Back in Salzburg for Annual Festival
Masterful Music Making
By Irving Spitz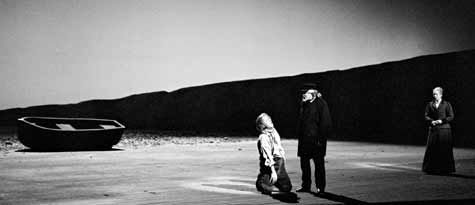 The Berlin Philharmonic made its annual appearance in Salzburg with an exciting program comprising three concerts and one opera. The emphasis this year was on the British composer, Benjamin Britten. His opera, Peter Grimes, is a gloomy saga about the proud, self-willed fisherman. It is his uncompromising independence and unwillingness to accept any help, that brings Peter Grimes to disaster and suicide. Director Sir Trevor Nunn and designer John Gunter filled the stage of the Grosses Festspielhaus with Brugellian bleak true-to life sets depicting most realistically the fishing village and its simple yet hostile and aggressive inhabitants. The Grosses Festspielhaus is ideal for concerts but is a nightmare for an operatic production team. In this powerful production, Nunn succeeded in bringing out the tragedy and pathos of the figure of Peter Grimes and made the bloodthirsty villagers who failed to understand Peter Grimes the true villains of this great epic.
At an early age, Britten expressed the desire to study with Alban Berg but in fact never did so. For the most part, Britten rejected the 12-tone mode and instead used melodic harmonies. First performed in 1945, Peter Grimes is arguably the greatest opera by a British composer since Henry Purcell's Dido and Aeneas. Sir Simon Rattle with the magnificent Berlin Pilharmonic Orchestra brilliantly portrayed the subtle nuances of this overpowering and complex score contrasting the agitation and pathos of Peter Grimes and the frenzy of the mob. Particularly effective was the brilliant juxtaposition between the offstage sacred Church music in Act 2 Scene 1 and the profane, represented by the argument between Peter Grimes and Ellen Orford. Intertwined in this wonderful kaleidoscope of sound, were the sea interludes, amongst the most sensual music composed in the last century. It was the Berlin Philharmonic Orchestra under Rattle that made the biggest impact.
American tenor Robert Gambill took on the challenging role of Peter Grimes. The notes were there but he lacked the stage presence of Jon Vickers or Peter Pears, Britten's long-standing life companion who originally created the role. Gambill's voice portrayed the required pathos, anger, sorrow and misunderstanding. He was best in his monologues when reminiscing about the death of his first apprentice and musing about his hopes and aspirations for life. This was not a villain but a tragic misunderstood figure. Veteran British bass-baritone, John Tomlinson was the old retired sea captain Balstrode. With his commanding presence, he used his sonorous arresting baritone with authority. Soprano Amanda Roocroft took on the sympathetic role of Ellen Orford. She was particularly effective in the soft passages. Ellen in particular, but also Balstrode initially tried to humanize Grimes and make him socially acceptable. They were, however, unsuccessful and then persuaded Grimes to take his boat out to sea and not to return. The rest of the large cast was also exemplary, in particular Jane Henschel as Auntie, the landlady of the inn and Kathryn Harries as Mrs. Sedley who lead comic relief to this grim tale. The excellent chorus was formed from the London-based European Voices and students from the Guildhall School of Music & Drama. With justification, this performance was enthusiastically acclaimed by the full house and did Salzburg proud. The Berlin Philharmonic has been making this annual pilgrimage to Salzburg since 1967. Next year features Debussy's Pelleas and Melisande.#