Exploring Science at the Wetlands Institute
Would you like to see an osprey's nest that measures three to four feet across housing a patient osprey atop whose wingspan is six feet? That and the diamondback terrapin are just two of the wonders that await at the Wetlands Institute in Stone Harbor, New Jersey. The hands-on exhibits include a pilot whale's skull, a terrapin nursery and exhibits with names that invite exploration like "Secrets of the Salt Marsh" and "Sex and Gluttony on the Delaware Bay."
Phil Broder, the Director of Education, explained that many school groups as well as families access the guided nature trails (both self and with volunteers) throughout the year. Third and fourth graders can catch minnows, crabs and snails off the dock while others can opt for inner views via pontoon and kayak tours of the wetlands area.
As our guide, Angelica Krut explained, marsh grass is the most important part of the marsh—it's the glue that holds the wetlands together—and is composed of dead fish, grass, detritus and decaying matter. In fact, the "pungent marsh smell is a sign that a healthy ecosystem is at work." New vocabulary words learned as well as seen on this field trip were spartina (marsh grass); phragmites (common reed); fiddler crabs which eat detritus; and 40,000 black-head laughing gulls, the largest number in the country.
Horseshoe crab mating takes place in May and June when there is a high tide and full moon.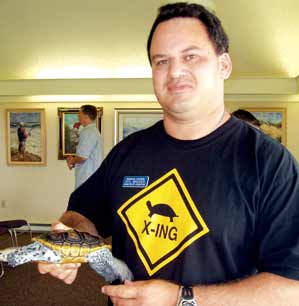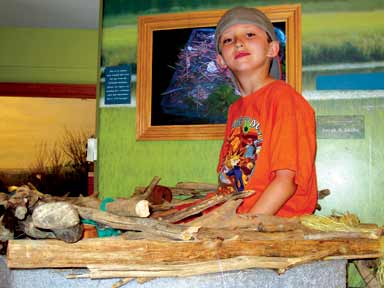 Connor Dodson, age 7 sitting on the osprey's nest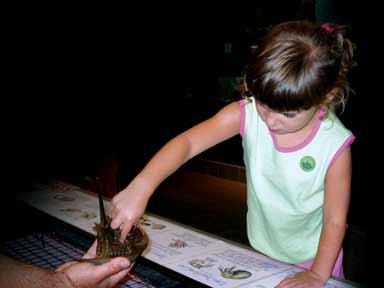 Caitlin Keenan, age 3 touching mussels and snails in the Teaching Tank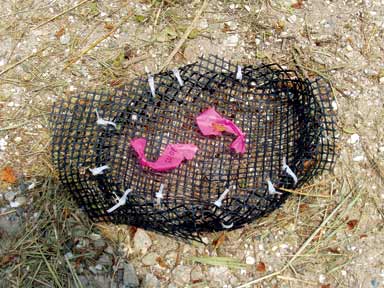 Turtles often bury their eggs on nature trails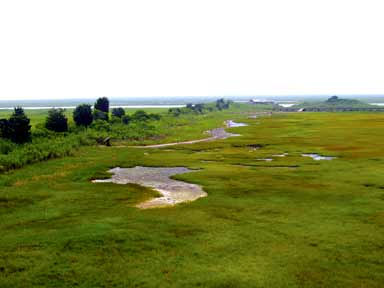 Salt Marsh at the Wetlands Institue