Product Review:
Shuttle XPC SS56L
by Mitchell Levine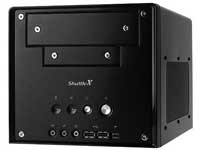 Because of the persistent attention that's been paid to the mobile computing paradigm in education technology over the last several years, a great deal of our editorial focus has been centered on portable systems for some time. It's true that those models have many valuable benefits, but it's also clear that there's no "one size fits all solution" for schools looking to reach their tech mandates.
Laptops have their advantages, but desktop component models do as well: the latter are far more robust, upgradeable, generally stable, cheaper, power efficient, and sometimes even more feature-rich. Mobiles are also infamous for their heat generation and cooling problems. In fact, if portability and space aren't primary concerns, you're probably better off with a desktop, especially in an education environment.
That said, most schools have good reason to desire the advantages of mobile products. One of the largest of all concerns in institutional procurement is space: districts with the most need for technology access have the least room to deploy them in. Is it possible to get the bonuses of the portable form factor without the costs and liabilities?
Thanks to Shuttle's latest entry in the market, the XPC SS56L that's now within the realm of possibility. A highly compact unit, the model's style is referred to with the designator SFF, for "small form factor," approximately half the size of a typically equipped system. This is a bare-bones package, so a monitor and CD-ROM drive are extra, but the additional specs are impressive: A P4 CPU or a Celeron ranging from 400-800 Mhz; 400 MB DDR memory; support for hyper-threading; an 8x AGP graphics system with 64MB of dedicated visual memory; and 240W SilentX power supply.
Beyond the raw numbers, however, are a number of technologies and features that promise great returns for the education user. The Integrated Cooling Engine heat pipe technology keeps heat flows at a functional level, while avoiding the exceedingly noisy standards of most fan-based cooling solutions—very important in an atmosphere where instructive communication is paramount. Also superior is the design for airflow mechanics within the product itself, something usually overlooked in traditional manufacturing processes. Heat is the greatest enemy of high technology, and for a community where maximum lifespan is a supreme interest, this feature set should be a paramount benefit.
Because of the extensive customizability options, the curious reader should get further information from the manufacturer's site, www.shuttle.com, directly. For any institutional planner looking to derive desktop performance from a system with a minimized footprint, especially for multimedia use, when time spent configuring isn't a first priority, the Shuttle XPC SS56L should be a serious consideration.#