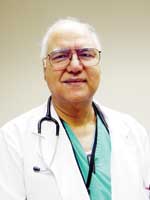 The Ultimate Gift of Life
by Khalid M.H. Butt, M.D., FRCS, FACS
Organ transplantation is the one of the most outstanding achievements of modern medicine. It prolongs life and improves the quality of life for the majority of patients so they can live a full life and pursue their interests and life goals. It is, however, only possible with the participation of another human being providing the healthy organ.
The ability to diagnose death by neurologic criteria provided the opportunity to recover functioning organs from deceased donors. Unfortunately, cultural and social advances have lagged far behind scientific advances, and only about 50 percent of the families of the deceased who may be appropriate donors give their permission for removal of the organs and tissues for transplantation. Although all the major religions have endorsed the act of saving lives through organ donation, many myths and misconceptions abound that continue to result in the wastage of these priceless human organs. In the U.S. alone, six to eight patients die each day while waiting for an organ.
There are more than 300,000 patients with end-stage kidney disease on maintenance dialysis in this country, and the number keeps increasing at a rate of approximately 8 percent per year. With the recognition that a kidney transplant gives 10 extra years of life, the demand for kidneys has escalated. Fortunately most of us are blessed with two kidneys, and parting with one to help another human being does not in any way impair the health and well being of the donor, nor does it shorten life. The challenges inherent with hospitalization, surgical pain and recuperation have all immensely improved with the laparoscopic technique of kidney removal. With these facts becoming more widely known, living donation of kidneys is being embraced by an increasing number of family and friends of prospective recipients. I am often asked, "... If we need only one kidney why do we have two?" In response to that question, I cannot help but think that God gave us two kidneys so that we can donate one to someone we care for, someone in need.
Despite the extremely low risk of living kidney donation, when someone volunteers to donate to any patient on the list who has the closest match and has been waiting the longest, without receiving any reward in return, it is truly an altruistic act. It is a most extraordinary expression of the finest of human behaviors. Such a gift outclasses the proverbial "Gift of the Magi" and is the ultimate gift of life.#
Khalid M. H. Butt, M.D. is Professor of Surgery, New York Medical College & Director of Transplantation and Vascular Surgery Services, Westchester Medical Center.