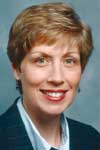 Young Amateurs Share Stage
with Grammy Award-Winning Talent
Macmillan/McGraw-Hill sponsored a live performance of "From the Top," a national radio program featuring young musicians during the 2004 Conference of the National Association for Music Education (MENC) in Minneapolis, Minn., recently. "From the Top" travels across the country throughout the year for performances which showcase classical musicians who are 9 to 18 years old. Participants are often featured in music curricula used by elementary schools nationwide. The concert is one of many sessions planned to celebrate the importance of music education in all schools. "From the Top's" mission is to encourage and celebrate the development of youth through music.
Macmillan/McGraw-Hill spotlights musicians from the radio program in its supplemental materials for elementary schools. Biographies about featured "From the Top" musicians accompany the lessons, which are available on compact discs.
"Macmillan is committed to providing unique opportunities for music education," said Sari Factor, president of Macmillan/McGraw-Hill. "Our sponsorship of 'From the Top' allows students to showcase their skills both inside and outside of the classroom."
"From the Top" recruits young musicians through national talent searches each year. Among those recruits is 18-year-old Greg Haro, a native of Apple Valley, Minn., and senior at Eastview High School. Having more than eight years of experience as a trumpeter, he currently performs with the Minnesota Youth Symphony and the Greater Twin Cities Youth Symphonies.
The "From the Top" radio show is produced in association with WGBH Radio Boston and New England Conservatory of Music. For more information, call (617) 437-0707 or visit fromthetop.org.
Macmillan/McGraw-Hill is a leading pre-K through Grade 6 publisher of print and technology-based materials that help teach every child in today's classrooms. It is unit of McGraw-Hill Education. Additional information is available at mcgraw-hill.com.#