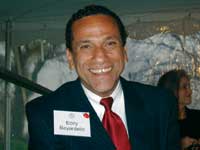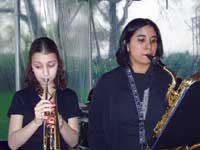 Mayor's Awards
for Arts & Culture Revived After 10 Year Hiatus
Mayor Michael R. Bloomberg, Cultural Affairs Commissioner Kate Levin and the Cultural Affairs Advisory Commission were joined recently at Gracie Mansion by hundreds of members of the City's cultural community to honor the 2004 recipients of the Mayor's Awards for Arts & Culture. The City presented the awards to individuals and organizations that have made outstanding contributions to the cultural life of New York City.
"The ceremony renews a proud tradition in our City that was established in 1976," said Mayor Bloomberg. "The Awards for Art & Culture are an excellent opportunity to celebrate the central role that arts and culture play in the life and well-being of our City. The arts are a vital component of our diverse communities and transform our neighborhoods, create jobs and give our City its distinctive character and energy. I congratulate the award winners tonight and thank the Cultural Affairs Advisory Commission for bringing these awards back to life and helping us celebrate all that the arts mean for New York City."
"This awards ceremony marks an exciting moment to recognize and celebrate the individual artists, organizations, sponsors, and audiences who collectively make New York such a livable, vibrant and world-class city," said Commissioner Levin.
This year's honorees include: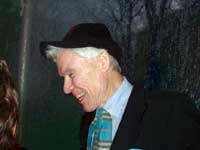 Jacques D'Amboise, the founder of the National Dance Institute, is one of the finest classical dancers of our time. In 1976, while still a principal dancer with the New York City Ballet, he founded the National Dance Institute, a non-profit organization that introduces thousands of school children each year to the world of dance. He has also served as Dean of Dance and a professor at SUNY Purchase. D'Amboise has received numerous awards for his contributions to arts education.
Charles Biasiny-Rivera, an award-winning photographer, is Founding Member and Executive Director of En Foco, a Bronx-based non-profit photography organization. Since 1974, En Foco has been providing support for photographers of African, Latino, Asian, Native American and Pacific Islander heritage through grant making, exhibition space, and the publication of the photography journal Nueva Luz.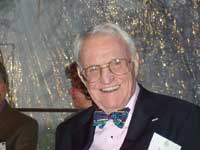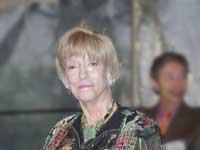 Dorothy and Lewis B. Cullman are among the country's leading philanthropists, providing essential guidance and support for non-profit organizations in the arts and education. Many of the Cullmans' gifts have been to New York City institutions—among them the American Museum of Natural History, the Museum of Modern Art, the New York Botanical Garden, the Metropolitan Museum of Art, the New York Public Library (including the Library for the Performing Arts), Thirteen WNET and Lincoln Center. A member of the Academy of Arts and Science, Mr. Cullman serves as chairman of Chess-in-the-Schools, a New York City public school program serving 38,500 economically disadvantaged children annually. His book, "Can't Take It With You—The Art of Making and Giving Money," was recently published by John Wiley & Sons.
Gloria M. Guzman is principal of Public School 150 in Queens, which welcomes children from all over the world, many of whom are English language learners. Guzman emphasizes arts education as a way of engaging students and involving their parents. In addition to providing a top-notch arts curriculum, she has been credited with significantly improving students' reading and math scores.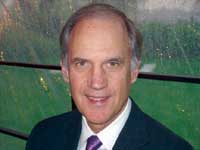 J.P. Morgan Chase & Co., under the leadership of Chairman and Chief Executive Officer William B. Harrison, Jr., is one of New York's finest corporate citizens. As a lender supportive of non-profit cultural initiatives, the firm finances many projects critical to the City's creative life. The firm's Foundation plays a major philanthropic role in New York City as well as globally. In 2003, it provided more than 4,700 grants totaling $85 million. Of that, almost $10 million went to arts and culture organizations.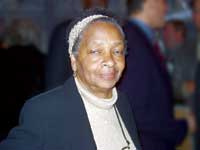 Joan Maynard, founding member and Director Emeritus of the Society of Preservation of Weeksville and Bedford Stuyvesant History, has led the fight to preserve Weeksville, a 19th-century settlement in Brooklyn, which was at one time the largest free African-American community in the Northeast and home to the first African-American Police Officer in New York City. Maynard, a Brooklyn-born visual artist, became the Society's first executive director in 1974, and served until 1999.
Jennifer Tipton is well known for her groundbreaking work in lighting design for dance, theater and opera. Unique in the breadth and scope of her work, Tipton has advanced her art form by emphasizing the three-dimensionality and emotional qualities of live performance. A professor of lighting at the Yale School of Drama since 1981, Tipton has been the recipient of nearly every professional award in the field.
The Tribeca Film Festival, co-founded in 2002 by Robert de Niro, Jane Rosenthal, Martin Scorcese and Craig Hatkoff, celebrates and promotes New York City as a center for major industry and independent filmmaking. Attracting thousands of people and generating millions in revenues for local businesses in a neighborhood hard-hit by 9/11, the festival is poised to expand its impact with year-round humanities programming and a theater initiative. Craig Hatkoff accepted the award.#