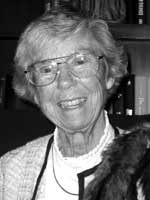 History Revisited:
An Interview with Eleanor Roosevelt II
by Dorothy Davis
When your name is Eleanor Roosevelt II, "Getting a pizza delivered is particularly challenging," said the gracious 85-year old niece and namesake of the famous first lady, in her newly published first book, With Love, Aunt Eleanor. "After all that information about mushrooms and meat and cheese they want to know your name and address, and when I tell them, there is always a pause before the young man says, "lady, you better come down here and pick up the pizza yourself!"
Hotel reservations can be difficult too, she confided as we sipped tea one morning recently, seated next to her eldest son, Stewart Elliott, a study in contrasts: she, serene and elegant, in a pink Chanel-like jacket with black trim, a white high collared pleated blouse, black skirt and comfortable black shoes; he, relaxed and casual, in a green T-shirt and blue jeans. But, she admitted, "I always wear jeans back home." Home is Davis, California where she works in her studio as an artist, mostly on drawings, many of which charmingly illustrate her book. But she also works on paper mosaic tabletops, using a process she invented, since stone mosaics are too heavy for her to lift. The finished products are mosaic tables that you can easily move about. She also enjoys bird watching with her friends, and lecturing at local schools about Eleanor Roosevelt. She is dedicated to bringing the personal side of her aunt to the world.
Her book had its genesis in "Before I Forget," the columns about her aunt that she wrote for her son Lauren Elliot's Internet magazine, who is also the principal of Scrapbook Press, publisher of her new memoir. Her goal was to "convey a sense of the person who loved and laughed and clapped her hands, who stood quietly by a dogwood tree in bloom in the woods or took up her pen late at night to write notes to friends while the rest of the household slept." The result is a charming, intimate, humorous book that lovingly, but truthfully, depicts her amazing aunt. [See the review in this issue, page 29.]
She does not gloss over difficulties. When asked what problems Eleanor Roosevelt had to deal with in her life, she replied, "I could talk about Lucy Mercer [Franklin D. Roosevelt's mistress while he was married to Eleanor]. I used to feel badly for my aunt. Her own background had inhibited her from speaking out for herself. I think that she really longed to be loved and FDR was so charming; he loved the ladies, and she couldn't be that way herself. She felt inadequate, but she loved him. They had a very good kind of working relationship."
Education Update (EU) asked, wasn't that similar to Hillary and Bill Clinton? ER II responded that she had "wondered about it because of the sex angle. I met Hillary Clinton the other day for the first time. I think Hillary, being a lot younger than my aunt, probably knew more. My aunt was brought up in a strait-laced New York family, a society that just was inflexible. And so what she learned about what she felt capable of doing she did by herself. She had this naïve thought that you get married and live happily ever after; it was a huge blow, and I just felt a little badly that she never could quite forgive Franklin. Because I think we all have to work out our relationships."
EU: Hillary has said that she greatly admires Eleanor Roosevelt and that she is her inspiration.
ER II: Oh yes, I think she does. But I just think that my aunt would have simply said, 'Well Hillary did that herself.' She wouldn't have taken credit for being an inspiration.
ER II's father, Hall Roosevelt, named her for his older sister. Their father, Elliott Roosevelt, was the younger brother of President Theodore Roosevelt. Sadly, both Eleanor Roosevelt and ER II's fathers died of alcoholism when they were young. Eleanor Roosevelt was orphaned when she was 9 years old, her mother having died a year earlier. Eleanor Roosevelt II lost her father when she was 22, but he had left her mother and the children when she was 3 and her mother had remarried.
There were many benefits in being a Roosevelt. "I was 13 when Uncle Franklin was elected president the first time," she said, "and he kept on being president. I loved going around Washington with a police motorcycle escort with Uncle Franklin. Out in Arlington they kept a couple of horses because my aunt liked to ride. I used to ride with her along the river. She never considered having an escort or a guard. Of course they wanted to watch over her, but she wouldn't hear of it!" "Once my Uncle Franklin was reviewing the fleet, probably in the early 40s. I was invited to join him and went out from the Boston area on the presidential destroyer. The school I was attending said 'This will be an unexcused absence!' But I went out anyway and reviewed the fleet." The school ER II attended for 8 years, from 6th grade to graduation, was the Winsor School for girls in Boston. "It was fairly expensive. Most girls were from very Republican Conservative families. I was a Democrat surrounded by Republicans. [People would say] 'Your uncle is taking this country straight to ruin!'" (As ER II explains in her book, FDR, who lead us out of the great Depression and through the Second World War, also "led the United States through a social revolution. During his tenure, Congress passed legislation that instituted Social Security, standardized the number of hours in a workweek, and suggested a minimum wage. Labor unions were also organized." All of this of course made him very unpopular with conservative Republicans.) "But most teachers [at ER II's school] were very liberal Democrats. I was surprised to find that the teachers were my friends and admired my uncle and aunt. I got a really wonderful education. They taught the tools you need: how to research things, how to do what you want to do, and the courage to do it. It was assumed that of course you could do it even if you were a woman."
ER II's mentors were her mother, her aunt, "the most influential person in my life" and "Mrs. Stevens, a teacher at the Winsor School. She was marvelous, just in opening up possibilities to you, always pulling you, making history come alive, making you want to do your homework, read your books, get to know people around the world."
Instead of going to college she studied sculpture, woodcarving, design and drawing at art school, Cranbrook Academy in Bloomfield Hills, Michigan, where the instructors included Carl Milles, a Swedish sculptor, the Finnish architect Eero Saarinen and the American designer Charles Eames. It was there she met her first husband, Edward Elliott, a British architectural student, and the father of their four children
From 1946 on, ER II and her family spent a month every summer with Aunt Eleanor at her Val-Kill Cottage in Hyde Park. Her son, Stewart has wonderful recollections of those summers.
"We were very active," he said, "Riding horses, swimming, playing games. But we, as well as my cousin John's children [who lived in Hyde Park] had to work for two to three hours a day, mowing, baling hay, splitting wood, filling fireplaces. I loved it. Aunt Eleanor always had us for tea. I remember sitting at the tea table. It was reasonably formal. Manners were important. It was a unique experience. Wiltwyck was a school nearby for difficult children from New York City. She wanted them to come see her every summer and have a picnic by the swimming pool. We had a big long table set up with hot dogs, hamburgers, desserts. She would read to them from Kipling's Just So Stories. These kinds of experiences made me really understand that if you can better a person's life, you are improving the world substantially. If out of that picnic one or two kids got better and thought differently about the human race, it was worth it. I learned from my aunt that we should do small gracious acts all the time. That might mean helping someone, or leading something, or contributing effort or time. I'm in the housing business in Michigan. I do quality Green, environmentally sound, construction. I feel that I can make some family's life better by making them a custom home, and I also work with Habitat for Humanity."
Eleanor Roosevelt died on November 7, 1962. Eleanor Roosevelt II wrote in her book that on the day of her funeral she "understood…that her life force would never die. She is always with us, urging us on to carry forward her wise tolerance and love of mankind." Her aunt's proudest legacy, she told us at this interview, "was the United Nations. Her greatest hope and what she really worked her whole life for was peace on earth."#