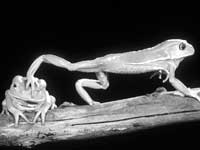 Frogs (Ribbit) at AMNH
by Joanna Leefer
Frogs: they come in all sizes and shapes, and live in all types of habitats from jungle wetlands to parched deserts. Frogs have captivated the imagination of people throughout the centuries. Did you know that frogs can live as long as 20 years or more? That they drink through the skin of their bellies? That the world's largest frog, the goliath frog of West Africa, can grow to 15 inches and weigh up to 7 pounds, the weight of a newborn infant? And that some frogs are so poisonous, they can kill a human. Now through October 3, 2004, people have the chance to learn more about frogs at the American Museum of Natural History's new exhibit, Frogs: A Chorus of Colors. This enchanting new exhibition features over 200 live frogs from 17 countries. The frogs have been gathered from as far away as Argentina, Brazil, China, Kenya, Nicaragua, Russia, Suriname, and Viet Nam. The exhibit explores the evolution and biology of frogs, notes their important role as a barometer to changes in the ecosystem, and discusses how they are being used in scientific studies.
The museum has re-created the habitat of different frogs, from tropical wetlands to deserts. In addition to frog habitats, the museum has created interactive stations throughout the exhibit where people can activate recordings of frog calls, and view videos of frogs eating and jumping. The centerpiece of the exhibition features a 110 cubic foot vivarium that encases over 75 poisonous frogs. Most of these frogs can be identified by their bright colors that warn predators of their toxic skins, making this enclosure a vibrant array of neon reds, blacks, and gold colors.
The exhibit explains the importance of frogs to our society. Frogs have been a valuable food source for many impoverished nations. They have also become a delicacy for many developed countries. In the U.S. alone, over 1.25 million pounds of frogs legs are imported every year. Frogs are proving to be a valuable source of medical care. Scientists studying frog toxins are discovering they can be applied in human medicine to treat such ailments as heart disease, depression, skin and colon cancer, and even Alzheimer's. One poisonous frog from Ecuador and Peru has even been found to secrete a painkiller called eipibatideine that is 200 times more powerful than morphine and appears to be non-addictive.
In addition to the exhibit, the American Museum Of Natural History is presenting a series of lectures on frogs, covering everything from frog songs, to extreme frogs—cannibalistic frogs, dart poison frogs, and frogs that exist in the desert. There are two children's workshops—one on frog wire sculptures, and on the metamorphoses of tadpole to frog. The Museum is also opening The Frog Shop that offers an array of fun frog-themed merchandise including bath accessories, housewares, novelty toys, and books and CDs.#