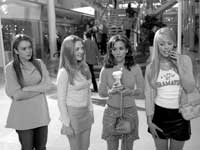 High School High Jinks—Mean Girls and Saved!
by Jan Aaron
Changing high schools can be difficult under normal circumstances, but more so if you're Cady Heron (Lindsay Lohan) in Mean Girls. She's not just a new girl from out of town, but a new girl from out of Africa where she was homeschooled while her parents worked there as zoologists. The sassy script is by Saturday Night Live writer/performer, Tina Fey, who also plays one of the teachers. Based on Rosalind Wiseman's non-fiction "Queen Bees and Wannabees: Helping Your Daughter Survive Cliques, Gossip, Boyfriends, and Other Realities of Adolescence," the film has a sharp eye for life in the high school jungle. While it goes off track at times, it is always interesting and fun to watch.
Desperate for friends, initially Cady hangs out with class misfits, Janis (Lizzy Caplan) and Damian (Daniel Franzese). They urge her to infiltrate "The Plastics," a wicked trio led by the regal, Regina (Rachel McAdams) and her self-absorbed handmaidens Gretchen (Lacey Chabert) and Karen (Amanda Seyfried) and report their doings back to them. But what happens is that Cady, in pretending to like them, actually is drawn into their circle and falls for their way life. This is a bit of a stretch since Cady seems far to grounded and smart to go along with them.
When Cady falls for resident jock, Aaron (Jonathan Bennett), Regina's treacherous side takes command, which makes Cady decide to remove her crown. Cady climbs higher on the high school social ladder, and gets giddy enough to loose sight of her real self. The fallout has the students going wild and rampaging in the halls.
Directed by Mark Waters, the film, the cast and writers, give even the most objectionable characters enough heart so you never want to want to hate them. While the cast is universally good, Caplan and Franzese deliver the best lines.
A perfect complement to this movie is Saved! a satire set in American Eagle Christian High School. While its sharp point of view might ruffle a few feathers, its message certainly will not: "Religious beliefs are fine, just don't carry them to extremes."#