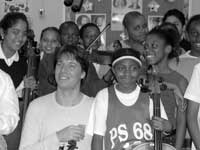 Virtuoso Joshua Bell
Inspires Future Generations of Classical Musicians
by Gillian Granoff
When world famous violinist Joshua Bell was asked to visit a class of budding virtuous violinists and cellists at PS 68, the Edward A Fogel School for Critical Thinking and the Arts, he accepted the opportunity with enthusiasm. "I love meeting kids. I love seeing kids excited about music. And I so often see schools taking music out of the curriculum. It just kills me. We all know that music is a wonderful thing that brings us all together. Music and art is as important a part of the diet of one's education as math or science," he commented.
To the students of PS 68, Joshua's face is a familiar one. His posters grace the hallways and melodic sounds of his Stradivarius violin romanced students and teachers over the school loudspeaker in anticipation of his visit.
"I hope to change their idea of what a classical musician is. They may have an idea that a classical musician is old and the music inaccessible, which it isn't. Hopefully, these fourth and fifth graders will come away thinking about music in a different way."
Kathy Damkholer, director of Education through Music (ETM), a non-profit dedicated to the professionalism of music instruction within the schools and her relationship with PS 68, remains one of the longest running partnerships and one of its most successful. The school, under the guidance and support of principal Cheryl Cole, won a New York State School of Excellence Award in 2001, receiving a special note for its exemplary arts programs. "ETM made Bell's visit possible. Bell knows first-hand the rewards music can bring. He is passionate that music be integrated with academic study. "Working on music from an early age helped me focus and practice, it gave me discipline and also taught me about working with other people."
During his visit, Bell spoke with three violin classes and a cello class. He treated students to an impromptu performance, gave a history lesson on his Stradivarius violin, shared his personal musical tastes, childhood ambitions and anecdotes on the incredible opportunities living life by his violin strings.
"Some of you may become musicians professionally someday. Don't give up; there will be times when you're tired and say. 'I don't want to practice.' But you'll feel better once you do."
The demonstration culminated in Q and A session followed by an impromptu performance of a work from the film The Red Violin. The enthusiastic performance was met with shouts and cheers and thunderous applause from the over 200 students.
"I liked the last song that he played. "I think Joshua Bell did a wonderful job and I would love to meet him again," stated Jessica, a third grade violin student.
Tiffany and Chelsea, two fourth grade budding string students who have been playing the violin since second grade exclaimed, "Joshua Bell is great. He's inspired me. I want to grow up to play just like him."
The resonance of Bell's visit and unforgettable playing will surely leave an indelible impression on the students of PS 68 and will continue to inspire Principal Cole's and ETM's mission to make music central to the minds and hearts of the students.#
For more information or to get involved with ETM visit www.etmonline.org.