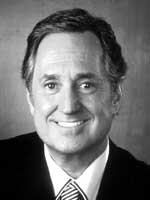 Neil Sedaka Embraces Heritage
of Yiddish Music at Carnegie Hall
Offering further evidence of the remarkable resurgence of Yiddish music, language and culture in the U.S., rock and pop music legend Neil Sedaka performed traditional Yiddish music with the world-renowned Klezmatics, in a gala concert at Carnegie Hall, benefiting The Folksbiene Yiddish Theatre, America's sole-surviving professional Yiddish theatre.
NYC Mayor Michael Bloomberg announced on stage that a permanent home was acquired for the Folksbiene Theatre at 2nd Avenue and East 6th Street. Famed architect Daniel Liebeskind has donated his services for the theatre's design.
The event's concert chairman is piano prodigy Hershey Felder, whose one-man musical play "Gershwin Alone" opened on Broadway in 2001 and continues to tour internationally to wide acclaim. Honorees for the event were Roman R. Kent, chairman of the American Gathering of Jewish Holocaust Survivors and Jeffrey S. Weisenfeld, of Bernstein Investment Research and Management.
Joining Neil Sedaka and the Klezmatics on stage was The New Yiddish Chorale, under the direction of the world-recognized Yiddish music expert, conductor and composer Zalmen Mlotek, recording star Claire Barry of The Barry Sisters, Broadway star and Steinway concert artist Hershey Felder, the beloved comedian Mal Z. Lawrence, stars of the Yiddish theatre Joanne Borts, Eleanor Reissa and Nell Snaidas, and a large children's chorus drawn from choruses and shuls from across the tri-State area.
Neil Sedaka and the Klezmatics, whose unprecedented collaboration will continue this summer as additional dates in other cities are added, will perform songs Sedaka recorded last year (with other musicians) on his latest CD "Brighton Beach Memories."
"These are songs I heard and loved growing up in Brighton Beach at family picnics and on long bus rides," says the Songwriter's Hall of Fame member whose chart-topping history dates back 45 years. "But what was to be a tribute to my family has now mushroomed into an exciting artistic adventure."
The Carnegie Hall concert benefits America's only permanent professional Yiddish theatre, which Donald Lyons, writing in the NY Post this season, called "one of the city's most remarkable cultural institutions." Now in its 89th consecutive season, the Folksbiene Yiddish Theatre is leading a uniquely intergenerational charge to popularize Yiddish, and to go beyond keeping a rich cultural legacy from disappearing, the stance of the legacy's custodians in recent years. The Sedaka/Klezmatics collaboration, dreamed up by a leadership that for the first time in Folksbiene's history is comprised completely of American-born theatre professionals, perfectly emblematizes their goal to foster new work that will add to this legacy.
"Neil Sedaka's warm and public embrace of his cultural roots is deeply moving and in many respects courageous," says Mlotek, Folksbiene's executive director "It signals to a younger generation that the rediscovery of a cultural heritage is not only rich and rewarding but full of creative potential."#