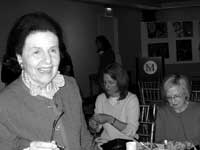 Muriel Silberstein-Storfer:
Art Educator Par Excellence
by Sybil Maimin
Parent-child art studio workshops under the guidance of Muriel Silberstein-Storfer have become an institution in New York City, whether experienced in the august and inspiring environment of The Metropolitan Museum of Art, the new JCC (Jewish Community Center, at Amsterdam Avenue and 76th Street), at schools and institutions in the five boroughs via Doing Art Together, a program that brings instructors and methods into the community, or via the CD-ROM "Look What I.C.," which provides demonstrations and instructions for hands-on art activities at home. At The Met recently, Silberstein-Storfer spoke warmly with an admiring group of teachers, former and present students, and museum members about her philosophy, career hallmarks, and mentors. She gave much credit to Victor d'Amico, her art teacher at Fieldston High School and later head of The Museum of Modern Art's Institute of Modern Art where she first became an art teacher. "He changed my life in so many ways," she explained. He taught that art should not be thought of as a separate area of study but should be integrated in all areas of life. She has been a forceful advocate of the importance of arts in education and the need for people, especially young children, to be made aware of their senses. She is constantly touched and inspired by nature and encourages the use of found materials and expression of feelings. Another mentor was Jane Cooper Bland, her first teacher in a parent-child workshop, who taught, "A teacher should never have a preconceived idea of what she wants from a child...An art experience must be personal. It must express a child's own ideas, from his own experiences, imagination, or from the materials…Children see the world with different eyes than do most adults." Today, Silberstein-Storfer has a rewarding relationship with and much praise for Electra Askitopoulos Friedman, co-founder of Doing Art Together.
The Chinese proverb "What I hear I forget. What I see I remember. What I do I know." instructs Silberstein-Storfer's teaching philosophy. In her workshops, as children and parents (working separately) progress from projects with paint, then collage, then clay, "You can hear a pin drop. It's like a spiritual temple. Everybody is so busy working," explains Eileen Travell, a former student who now attends with her three-year old daughter. Hoping that "parents and children will become culturally literate and pick up ideas and inspiration," Silberstein-Storfer fills her classroom with reproductions of famous art as well as works by the children, encourages visits to museums and galleries, and utilizes art books. Her favorite book, Little Blue and Little Yellow by Leo Lionni, focuses on color and shows how blue and yellow characters hugging each other can produce a new hue. The children learn "to draw with scissors" as they "cut lines," talk about archways as "see-through shapes," and discover that "there is nothing you can do that nature didn't think of first." An aesthetic vocabulary around color, line, form, and texture is inculcated.
The CD-ROM, produced by Rori Jones and designed for children aged 3 to 10, contains layers of material and links. It includes demonstrations, suggestions for all kinds of activities, classroom views, and lots of information and tips. It shows how to replicate the art studio workshops at home or other settings. As proclaimed by Muriel Silberstein-Storfer, "Everything is possible in art."#