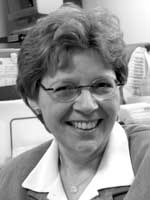 Dr. Sharon Dunn, Arts Educator
by Joan Baum, Ph.D.
In the middle of talking about Project ARTS and other initiatives she is working on to promote the arts in the city's schools, Sharon Dunn is asked if she has enough space, equipment, discipline-trained teachers and supplies to do the job. "No, No, No, and No," she replies with a laugh, but quickly follows up with the "tremendous challenge" she feels to recruit, train and have in place a renewed cadre of teachers for grades K-12, and to continue to explore imaginative ways of deploying the cultural and artistic resources of the city.
As Senior Instructional Manager for Arts Education at the Department of Education, Dr. Dunn, who is also president of the volunteer not-for-profit New York State Alliance for Arts Education, is determined to provide not just enhanced curricula but "superior" instruction to the city's over one million children and 1200 schools, in accordance with New York State Learning Standards for grades K-12, and in collaboration with prestigious institutions that have been partnering with districts ever since the 80s and 90s when programmatic budget cuts all but eliminated arts education. But, she points out, The Met and MoMA are not responsible for teaching art, they can't address sequential learning, and they need not attempt consistent, systemic instruction. That's not their job. That charge belongs to the Department of Education.
To that end, the Chancellor decided to centralize efforts administratively, while allowing for creative scheduling and deployment of resources in various schools. Committees were established to ensure that music, art, dance and theatre were addressed at each major educational division: elementary, middle school, high school, and that a standardized "curriculum blueprint," available to all arts teachers, would place each discipline in interdisciplinary instructional context: history, culture, theory, application, social and economic influences, as well as job and career opportunities. The elementary schools would require study in all four arts areas, the middle schools a year of two, and the high schools would allow for elective concentrations. It is Dr. Dunn's hope that middle schools will become feeder schools for high schools concentrating on one or two of the arts. She also envisions flexible management, whereby one elementary art teacher in a school with 60 classes, for instance, might be "cycled through" each of the grades. And of course the city's spectacular arts institutions would continue to "supplement" the blueprint by providing resources and top artists for classrooms.
Dunn acknowledges that the initiative may be uneven, but she also points to great progress in improving attendance at poorer schools that have solid arts programs. Special summer programs to train teachers holistically are already in place, and regional superintendents have formed groups to ensure that the curriculum blueprint goes even beyond state standards. She means by this not just excellent sequential instruction but joy. She recalls her own love of visual arts that had been encouraged by an observant teacher in Brooklyn, and she notes that a child with a recorder, for example, exercises not only eyes, ears, feet, fingers, but social skills, collaborative learning so vital for success in school and work.#