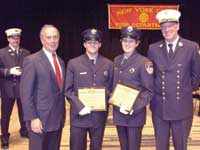 Class Features First
Brother & Sister Combination in NY Fire Dept. History
Mayor Michael R. Bloomberg and Fire Commissioner Nicholas Scoppetta presided over a graduation ceremony for 233 Probationary Firefighters. The new firefighters, or "Probies," have successfully completed the rigorous 12-week training program at the Fire Department (FDNY) Training Academy located on Randall's Island. Today's class featured two sets of siblings, including the first brother and sister combination in the history of the FDNY. Several hundred friends and family members joined the Mayor and Commissioner at a ceremony at Brooklyn College to congratulate the first class of 2004.
"It gives me enormous pleasure and satisfaction to welcome today's graduating class of 233 men and women into the ranks of the world's greatest fire department," said Mayor Bloomberg. "These new firefighters join a department whose members protect this City day in and day out, facing new challenges and threats of terrorism with courage and professionalism.
I congratulate our newest firefighters on becoming New York's Bravest and know they will serve the people of New York with honor and dedication."
"You have completed the first step in what will become an enormously rewarding career and now enter the ranks of a Department rich in history and tradition," said Commissioner Scoppetta. "With each response, you will expand upon the foundation of knowledge and skills you have received from your instructors at the Academy. Rely on that foundation as you assume your role as the first line of defense against the threats to our City."
While in training at the Fire Academy, the "Probies" learned firefighting techniques such as basic engine and truck operations, fire suppression and containment, hazardous materials training, and terrorism awareness. The "Probies" will now be assigned to firehouses throughout the City of New York, where they will gain field experience under the guidance of senior firefighters and officers. In keeping with tradition, the class-donated money to a number of FDNY related charities.
Firefighters Christopher and Lauren Smith graduated at today's ceremony. They are the first brother and sister combination to ever graduate the Academy together, and to ever join the ranks of FDNY. Their father Phillip is a 26-year veteran currently assigned to Ladder Company 54 in the Bronx. Christopher will be heading to Engine Company 42, Bronx, and Lauren will be assigned to Engine Company 298, Queens.
Probationary Firefighter Edward G. Dailey earned the honor of today's class Valedictorian, and Probationary Firefighter Joseph E. Pansini was the class Salutatorian. The Physical Fitness Award was given to Probationary Firefighter Harold Cargain.#