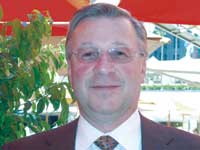 So You Want to Own a Vineyard: An Interview with Bob Brower of Chateau Julien in California
by Dorothy Davis
Bob Brower used to be in the oil business in New Jersey, but for the past 23 years he's been involved in another liquid guzzling enterprise—the wine trade. He is the blissful owner of Chateau Julien, which has a 246-acre vineyard on the Monterrey penninsula in Northern California, 15 miles from the ocean, 90 miles south of his chateau in Carmel, where he has another acre vineyard.
How he got from oil in New Jersey to wine in California and what, as a successful vineyard owner, he would advise any would-be winemakers were the chief questions of our recent coast to coast telephone interview with this high spirited wine maker, who, when not tending his vines, can be seen at auto races hobnobbing with the likes of Paul Newman and Mario Andretti. "Everyone has an interest in wine!" he says. And if you visit his main winery and you get talking, this sociable guy might just wind up inviting you to dinner.
But of course we wanted to chat with him first about his award winning Merlot, which was written up by the Beverage Tasting Institute as one of the best tasting wines in America. It helped him to earn the Rookie of the Year Award when he was just starting out, as well as countless awards and blue ribbons since then. Education Update's Publisher and Editor, Dr. Pola Rosen, who had the pleasure of sampling Chateau Julien's Merlot at a recent wine tasting, enthusiastically agrees that it is an excellent wine. But when Brower started out he had no guarantee that he would be able to produce a winning wine, he said, or even which of the varieties he planted might turn out to be successful. This is because wine is a living thing depending on many uncontrollable variables. In addition to its fabulous Merlot, Chateau Julien, also produces a very good Cabernet, Syrah and Chardonnay, all in the $10 to $40 price range, and an excellent higher priced Reserve blend.
Q. Don't you have to have a lot of capital to start a wine business and to make it a success? What else do you need to be successful?
A. As the saying goes, the way to have a small fortune in the wine business is to start with a large one. You need a lot of money to buy a vineyard and start a wine business. An acre of vacant land in Lockwood Valley, for example, costs $8,000 to $12,000. Plants for one acre cost $10,000. To get from start up to success takes a very long time. No one can believe you can lose money for so many years and still stay in business. The first crop takes three years. You harvest the fourth year. White wine you can sell the following year, but red wine takes a few more years.
You have to have a business sense, absolutely have to be schooled in business, understand the financing, not just the art of wine making. It is a very capital-intensive industry. Getting started is very difficult, if you have one acre or ten. It takes years before you can make a profit.
You also have to know how to market your product throughout the United States and the world. Almost every country and state makes wines. It's extremely competitive. Just because you start a winery doesn't mean someone will want to buy your wine.
Q. Where did you go to school for your business training?
A. I went to Hofstra, on Long Island, and Fairleigh Dickinson University in Madison, New Jersey. I majored in Business and Psychology.
Q. Why did you make the switch from the oil business to the wine industry?
A. In the petroleum business I traveled a fair amount. A very good friend of mine who is a lawyer traveled with me and taught me a lot about wine. Over time my wife and I became interested. On vacations we would go to Napa Valley and Sonoma County. We would buy wines there we couldn't find in New Jersey. When someone wanted to buy the oil company from us we found ourselves in a position to buy a vineyard and we thought that would be a great thing to do. We have no regrets. This is the life style we wanted. You enter the wine business for the life style. Your whole business involves food and wine, enjoying the finer things in life. That's pretty much bliss!
Q. What advice would you give to young people who would like to get into the wine business?
A. It's a labor of love. If you want a nine to five job don't do this. But if you want a career in something you can love and work at 24 hours a day and you really want to be involved in almost every facet of the business, this is a great field.
Q. What would you tell a young person who doesn't have much capital?
A. Go get a degree in Oenology, which teaches you about the chemistry of making wine. These are two-year graduate programs after you have your Bachelor's degree. The University of California in Davis and Fresno State, for example, teach these courses. Then start working for a winery. You can start buying grapes and making wine for yourself on the side and after a while make a few barrels and start selling some. Some new companies are starting out this way.
Q. What do you think about French wines in comparison to U. S. wines?
A. The French had a head start, but as early as the mid-70s, U. S. wines were winning major worldwide competitions against the French. Now the French make a lot of wines to the American taste. Americans like crystal clear wine. They like wines true to the character of the grape, whereas a Bordeaux wine can have a lot of different grapes in it.
Q. Are there any recent developments in the field?
A. The corking of wine is changing. With natural cork, bacteria affect one to five percent of the corks and spoil the wine. You can't tell this ahead of time and there is nothing you can do about it. We are now experimenting with synthetic corks and so far our experience is very favorable. We are not considering screw tops because most people believe pulling a cork out of a bottle helps create the romance of wine. And that's very important.
Q. What are you proudest of in your wine career?
A. In the wine business you can get closer to Maslow's self actualization than in any other business I can think of. Self-actualization is the pinnacle, and this is the business you can do that in. I wake up every morning excited about what I'm doing. If you can get that excitement there's nothing better!#