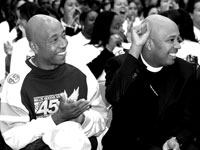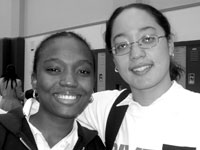 Russell Simmons Attends Graduation at Young Women's Leadership School
by Pola Rosen, Ed.D.
"This school is impressive, and so are you!" Russell Simmons emphatically stated as he awarded twenty college scholarships to a graduating group of thirty-seven cheering women at the fourth graduation ceremony at the Young Women's Leadership School in Harlem. "Impressive" is an understatement for the Class of '04 that scored 100 percent entrance success at east coast colleges, a class drawing predominantly from the local area that didn't have a chance at higher education until philanthropist Ann Tisch stepped up to the plate, with a vision and a dream. Tisch created a public school that would rival the best all-girls private schools complete with individual instruction, counseling, college advisement, AP courses, team work, respect, and caring.
Simmons reminisced about his generation: "I remember the civil rights movement; girls wore dashikis and platform shoes. There was a lot of disconnect among young people. I didn't have much faith in religion. Today, young women are more empowered. Hone your craft, whatever you choose to do in life. You're the best generation we've ever had."
In response to a grad's question as to how Simmons achieved his goals, he underscored perseverance and resilience and that "giving is the basis of all success and happiness."
The graduates culminated the program with a rousing rendition of their school song, "You're my sisters and I love you; Nothing can come between you and I."
Lynesse Page was jubilant about getting into Wheaton College. Kamilah Hamilton will be a computer science major at Clark and Chloe Nelson plans to delve into economics at Dickinson College in Pennsylvania.
When asked how is the school special for you, they responded, "We have a sense of community and unity" and "This school prepares you for the future and for college." Another response was, "I come from a big family and wouldn't have gotten into a four year college."
According to the principal, Kathleen Ponze, big challenges for students are health problems as well as battling issues of single and foster parents; completing high school is a supreme accomplishment. "We're so proud of them, of their struggles and determination. When we place them in college, we try to send them in small groups so they can continue their network. They are the nicest group of students," Ponze said wistfully, echoing the mixed feelings of a parent saying goodbye to the child leaving home for the wider world.#