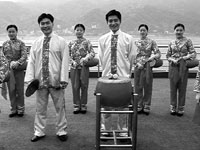 Performing Arts in China
by Jan Aaron
Copious amounts of entertainment and China seem to go hand-in-hand. As we 12 journalists from the US, Canada and Kuala Lumpur tour, these activities form a memorable montage. Beijingers starting their day with tai chi in city parks and gathering for an impromptu group sing under the trees at the Temple of Heaven. Several hundred people dancing in Chongqing's People's Square draw us in, too. "They're here every night," says our local guide. And even when we're aboard the swank Victoria Katarina, a new cruiser on the Yangtze River, there's a fine mix of sophisticated evening entertainment, from a fabulous retrospective yesteryear Chinese fashions and traditional folk dances, to engaging martial arts, opera, and acrobatics. The scenery outside our picture windows also is quite a show.
More indelible are famous performances. The Beijing Opera, a unique blend of music, song, acrobatics, and acting, is something no traveler should miss. Once a princely mansion, the Liyuan Theater looks like an intimate cafe, where, in fact, it's customary to sip tea and nibble sweets while enjoying the show. Chinese opera's falsetto singing and stylized movement is different from what we are used to, but even more unusual is its striking mask-like makeup: In Chinese opera, faces are painted to denote personality. For instance, red faces signal heroes, white, evildoers, and the faces of gods are gold. Supertitles in English beside the stage translate the arias. One lively story we enjoy is, "Havoc in Heaven" a fairy tale starring the Monkey King, (face painted like a monkey). Angered because he's not invited to the Heavenly Peach Banquet, he not only eats all the peaches and immortality pills meant for the party, but wrecks heaven, too.
Nor should anyone miss the Shanghai Acrobatic Troupe at the Shanghai Center Theater, a jaw-dropping mix of tumbling, plate spinning and juggling. There are different shows each night, so there is no printed program and always changing feats. Acrobatics were practiced in China over 2,000 years ago and today features young kids performing alongside seasoned performers, all rigorously trained to achieve accomplish amazing results. (For more info, contact: Ritz Tours, 1-800-900-2446).#