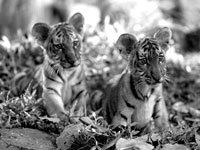 Fascinating Animals:
Two Brothers, Weeping Camel & Garfield
By Jan Aaron
Twin tigers get top billing in Jean-Jacques Annaud's family friendly Two Brothers, a Southeast Asian based story in which the humans play secondary (often dopey) roles. With amazing animal antics (thanks to trainer Thierry Le Portier) and exotic Indochina settings, the film is best when focusing on the animals. Still it's fascinating enough throughout to charm kids and adults as well. Annaud's The Bear was a crowd pleaser some years ago. Like that film, Two Brothers never makes the animals cute as in cartoons.
The main story, taking place in the early 20th century, spotlights two cubs born amid exotic jungle ruins. Their separation is the heart of this story. It happens this way: While romping in the jungle in charming ways under their mother's watchful gaze, adventurer-hunter Aidan McRory (Guy Pearce) nearby raiding statues for profitable sales abroad, discovers the tigers. McRory shoots the cubs' father, and snatches Kumal, while Sanhga and mom tiger escape. Later, it becomes easy to distinguish the two brothers by the inventive use of a jeweled necklace on one of them.
After beguiling scenes of Kumal and McRory bonding, circumstances force him to sell the little tiger to the circus run by evil Zerbino (Vincent Scarito) Sangha meanwhile gets adopted by the local French administrator's son, Raoul (Freddie Highmore.) Muddled subplots include developing the jungle into a resort.
Later, the two cubs, now grown, find themselves in an arena before His Excellency (Oanh Nguyen) for a fight that never comes off. The picture again focuses on the tigers' destiny to come to a moving resolution. (PG, 109 minutes)
Another must-see is The Story of the Weeping Camel; a documentary set in the Gobi Desert. It's the touching tale of a family whose camel gives birth to a white colt and rejects it. The theme of family love is all-pervasive as the mom camel slowly accepts her newborn, and it carries over to the human side as well. (PG, 93 minutes)
Back to cats, to amuse tiny tots, try the screen adaptation of Garfield: The Movie, Jim Davis's long-running comic strip. The best scene is a dance off between pets. (PG, 86 minutes)#