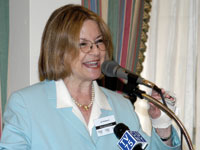 Excerpts of Dr. Pola Rosen's Speech
Speculation and discovery are your mantras. You are the outstanding teachers of NYC whose voices will always be remembered by your students. Your unique and successful ways of transmitting knowledge have been recognized by your principals and superintendents.
Our guest speakers all share one thing in common: they were all students in the public schools of NYC. CUNY Chancellor Matthew Goldstein attended PS 71 in Manhattan, Abraham Lincoln HS and City College. Schools Chancellor Joel Klein attended Bryant HS in Queens. President Augusta Kappner attended PS 23 in the Bronx and Hunter Junior High and HS.
The influences that have shaped our speakers' lives are continuing to shape the lives of students in all parts of NYC through the work of the Outstanding Teachers here today.#
About the Publisher: Dr. Pola Rosen earned a BA in English at Barnard College and a doctorate in special education at Teachers College, Columbia University. She has been a classroom teacher, special education supervisor, and college professor and for the past eight years, the publisher and editor-in-chief of the award-winning newspaper Education Update
, which she founded. A New York City public school student herself, her vision has always been to enrich and ennoble people's lives through education.