Native American Music: A Must for Every Classroom
By Joan Baum, Ph.D.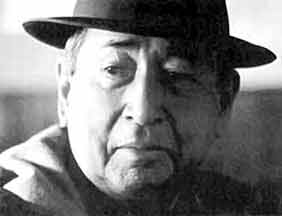 Dr. Louis Ballard
His pleasing, confident a cappela tenor almost gives the lie to Dr. Louis Wayne Ballard's claim that Native American music, basically percussive, is without Western signifiers such as harmony, counterpoint, and improvisation. The fact is that many of the 23 class lessons figured here— legends, lullabies, love songs, social dances, rounds, stomps, and rabbit, bird, and buffalo songs, among others, are distinctively lyrical and so captivating that even a hungry 19 month old baby, waiting for dinner, has his mouth open trying to imitate the sounds that Dr. Ballard is making. What seems especially appealing is Dr. Ballard's soft and soothing voice: he pronounces syllables, takes phrases in small sound bites, recites, sings in rhythm, invites listeners to join in, then repeats the essentials. The variety of offerings is surprising. As Dr. Ballard has written, "There is no one kind of Native American Indian music, but many kinds," music that represents "at least 200 tribes in continental America alone."
Dr. Louis Ballard, a Quapaw Indian of Cherokee and French/Scottish ancestry, is an internationally regarded composer, music educator, writer and lecturer on Indian music and curriculum development, whose work has been featured at Carnegie Hall [see Education Update, November issue]. On the CD's he shows himself to be a patient and quietly impassioned advocate. Here, after all, is American music, though it has not yet enjoyed the renown it should have, given the imperatives of American history. The last census reveals over two million Native American Indians residing in this country, many not on reservations. "What is needed in America, as it has always been needed," Dr. Ballard has written many times, "is an awakening and reorienting of our total spiritual and cultural perspective to embrace, understand and learn from the aboriginal American what it is that motivates his musical and artistic impulses."
Although Native American Indian Songs is intended for use at levels beginning with the early grades, the focus of the instruction is such that anyone, at any age, could easily be moved to imitate and learn. Of course, the most significant applications will be by music teachers who follow Dr. Ballard's analyses of how Indian music differs from familiar ethnic folk songs. For them, the book will resonate as professional guidance with its reliance on technical terminology references to "linear modality," "monophonic structure," "chordal foundation," "mesa tones" but simpler and general applications could be developed because of the Guide's basic pedagogical structure. Each song is introduced with more brief notes about form, key, starting tone, meter, Native American language, percussive instrument, and grade level, not to mention wonderful accompanying "Study Photos." Where applicable, dance notation is also provided. For the "Navaho Corn Grinding Song," for example, suggested for grade levels 4-12 (the particular lessons here grew out of classroom situations with fourth graders at Kenilworth School in Phoenix), teachers are informed that "rattles" should be used. The actual music scores for each song include lines for both voice and percussion, but even before the music notation appears, teachers are given Learning Concepts, Cultural Notes and Map identification for each tribe. The Navahos constitute the largest Native American tribe in the country, both in numbers and in reservation area, with most Navahos living in parts of Arizona, New Mexico, and Utah. An illustration shows corn being grinded, and readers are reminded, which goes back 3,000 years, is found only in the Americas, North and South. Thus music instruction becomes a lesson in cultural history. Meanwhile, the beat goes on and the 19-month old is still listening as his dinner grows slightly cold.
Native American Indian Songs

Taught by Louis W. Ballard. Guidebook with Two Audio CD's. New Southwest Music Publications, bibliog., cultural notes, photos, compositions, resources. 110 pp. P.O. Box 4552, Santa Fe, NM 87502-4552. The book and CD's are a "new and improved upgrade." Southwest, "an Indian-owned and operated music publishing company," was founded in 1970 by Louis and Ruth Ballard "to meet the special needs of music educators and aficionados of Native American music."
www.nswmp.com
.#