Careers:
Filmmaker
by Sarah Ann Mockbee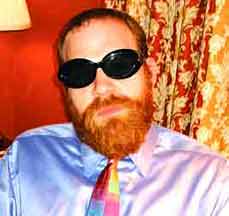 Sam Wainwright Douglas
When Sam Wainwright Douglas graduated from New York University's Tisch School of the Arts in the spring of 1998 with a major in film and television, he was ready to make his mark in the industry with creative, ambitious and visionary films. Douglas knew that to make it big, he would need a body of work that not only showcased his talent and skill but also appealed to investors, producers and, most importantly, movie-goers.
Douglas began working on the sets of independent films to gain experience and exposure but found the projects to be lackluster and dull. In an effort to tap into the more artistic side of film, Douglas then moved into post-production positions where he edited several television series, but he still felt that something was missing. Several of his former classmates felt the same way.
Douglas formed a working relationship with Paul Lovelace, Tim Hatch and Jesse Fisher—all of NYU's Tisch School—and together they set out to make an independent documentary. Douglas explains, "We decided that if we wanted to jumpstart our careers as filmmakers, we had to make a film on our own and hope that the right people would notice it." Now, after almost five years of shooting footage, sifting through archival material and editing, their film is ready for the festival circuit, which begins this January.
The film, Bound to Lose, follows the 40-year career of the folk-rock group the Holy Modal Rounders, who emerged out of the Greenwich Village music scene in the early 1960's. The Rounders recorded several landmark albums and played with an eclectic roster of musicians including Ike and Tina Turner, Pink Floyd and the Velvet Underground. They also landed a song on Easy Rider's generation-defining soundtrack. Although wildly talented, this dysfunctional family of musicians missed several opportunities to capitalize on their unique sound. The filmmakers fondly refer to them as the "bad boys of folk."
Douglas and his colleagues financed the film entirely through their own means, often working tiring editing jobs that lasted 8 to 12 weeks and then taking time off to contribute to Bound to Lose. Although this venture has forced Douglas to live hand to mouth for the past 5 years, it's been more than worth it. Douglas counts the opportunity to interview Sam Shepard, Dennis Hopper, Ed Sanders, Tuli Kupferberg, and photographer John Cohen as clear incentive for working on the film. More importantly, he's learned what it takes to make a feature documentary and this experience will give him leverage when pitching his next idea to investors.
Douglas hopes the film will premier at the South By Southwest Film Festival in Austin, TX and has also submitted it into several other film festivals around the country. Ultimately, Douglas would like to see the film distributed in art-house theaters and on cable television, but for now it's just a waiting game. Douglas is confident that he and his friends were right to go out on their own—but after putting in countless amounts of time and energy into this project, he's still nervous about its future. He quickly adds, "I just hope the title of our film doesn't end up describing our career."#