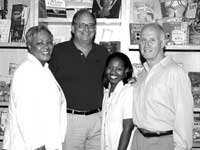 Principals Tell All to Scholastic
by Sybil Maimin
In an on-going effort to connect with its base and find out how best to serve it, Scholastic, the world's largest producer of educational materials, has established a Principal Fellows Program. Modeled after the successful six-year old Teacher Fellows Program, the new initiative brought three highly experienced public school principals to Scholastic's New York headquarters in July for an intensive five-day series of meetings with company executives and division heads who wanted baseline input on the evolving education scene. Fellows were Merian Stewart of Noyes Elementary School in Altadena, California, Les Potter of Silver Sands Middle School in Port Orange, Florida, and Patricia Welch of Hillcrest High School in Country Club Hills, Illinois. Each was impressed with the program and particularly welcomed the unusual opportunity to interact with principals from schools whose grade levels were different from their own. Unlike a typical, large national conference, the small number of participants meant, "We were able to craft the discussion. We could spin off of each other's responses," reported Stewart. What they discovered is that on all levels and in all locations, "Test score improvement and standards are huge. You can't go anywhere without hearing about standards." The No Child Left Behind Act (NCLB) is presenting a big challenge. All echoed Potter, who explained, "We like standards and achievement. What we don't like is the way they look at statistics." In his school of 1400 students, the score in one of 32 categories rated (involving 10 underperforming youngsters) was deficient, resulting in a failing grade for the school. "It's almost like the Federal government is playing, 'I gotcha.' I already know certain kids are not doing well and we are working hard to improve that. I don't need tests to show me what I already know." While at the program, Welch wrote an article about NCLB for Scholastic. "I agree with the philosophy," she says, but it's where we start that matters. We are expected to bring students from 5th grade level to 11th grade level in just 2 years. We can track and show improvement, but if not at the expected level, the school is placed on a list…it will make or break you." She suggests encouraging legislators to look at the law and enact alternate ways to measure student progress.
The Fellows shared best practices and experiences. In motivating staff, leadership must not come solely from the principal. Start with a small number of teachers who are empowered by being given chairs or other special responsibilities, and "they will infect others." The role of the principal hasn't changed much, reported Welch. "We're expected to be cheerleaders for our school…be positive and creative. When teachers are happy, students are happy—then parents are happy." Reading is now taught at all levels, including reinforcement in high school, using reading blocs geared to specific competencies. "We are in an accountability era," said Stewart. "Everything is based on test scores. We can have a clean, safe campus, but that's not what gets highlighted." Potter noted a trend of combining elementary and middle schools (K-8), challenging old notions of separation of age groups.
The Fellows visited PS 20, a highly regarded New York City public elementary school, and its principal, Dr. Leonard Golubchick. Impressions varied. Stewart was "amazed that there wasn't grass for the children to play on," and that "it was embedded in the heart of a business district." Potter noted that the building is 100 years old and shows much wear and tear. He prefers the campus-like setting and newness of his institution. What Welch saw was an "upscale, magnet elementary school" where "the students were focused on learning." From PS 20, she learned the technique of using pupil-led oral storytelling as a segue to good story writing.
With emphasis on standards and testing, the educational landscape has changed. In meeting with each other, the principals discovered, "we are all in the same boat." Scholastic also recognizes there are new needs to be met, and the principals expressed appreciation for being consulted in the planning—"a win, win situation," exclaimed Potter.#