Corporate Contributions to Education - Part I
This Is The First In A Series On Corporate Contributions To Education,
Interviewing Leaders Who Have Changed The Face Of Education In Our Nation

Eli Broad:
Accelerating the Impact of Education Philanthropy
by Joan Baum, Ph.D.
With 85 urban districts nationwide under its purview so far, The Eli and Edythe Broad Foundation in only its fifth year of existence has already distinguished itself in the world of corporate support for public education, K-12 by not just initiatives but follow through. As Dan Katzir, Managing Director of the Foundation has written, the challenge to philanthropists is to "demonstrate replicability and success in multiple locations." Acknowledging similar philanthropic activities by private and not-for-profit organizations, Katzir, himself a product of public school, eagerly notes the four main interests of giving that he believes differentiate the Broad Foundation: (1) selecting the district rather than an individual school as the "unit of change"; (2) ensuring that effective practices are widely disseminated, a move that will be augmented shortly with the hiring of a communications director; (3) sticking to a particular strategic focus or staying the course after the "sexy" start up period (Teach for America, where Katzir was COO, showed that constancy pays off; and (4) focusing on results through carefully monitored annual evaluations, 75 percent of which turn on performance indicators such as standardized assessments, GPAs, and graduation rates. Overall, the Foundation concluded that these four areas represented the most critical features in improving urban public education because they centered on better governance, including involvement of mayors and governors; management, meaning senior leadership positions on through; and labor relations, involving unions in a prominent way.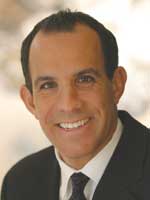 The reason for concentrating on urban schools is obvious: that's where the need and numbers are. What isn't immediately apparent is the choice of the "district" for main attention. Typically, Katzir points out, when a particular low-performing school is turned around its success is not duplicated in other needy schools in the system. "Models of [education] excellence rarely travel well," and yet in industry and in many areas in private, nonprofit and government sectors, "cross fertilization" seems to work. With admirable frankness—a remarkable achievement in the jargon-ridden education field—the Broad Foundation clearly addresses the failures that have plagued education philanthropy in general. Its own initiatives proceeded only after a year of sustained interviews, research and analysis. Central in these efforts has been the annual three-year old Broad Prize for Education, which awards $500,000 to the winning district and $125,000 to four runners-up in the form of scholarships for highschool seniors. Kaztir is delighted to point to the "integrity" of the competition and the inclusion on its panel of judges of important names from outside education (Jack Welch, for example). The selection of finalists is followed by weeklong site visits and further data collection (including grades, honors classes, kinds of courses taken, etc.) in conjunction with "education partners" such as ETS and The National Hispanic Scholarship Fund.
An essential consideration of the Broad Prizes, Katzir emphasizes, is the criterion of awarding the grants to the districts that make the most gains. That means that judgment is based on multiple performances and that the change from start to finish line must be "dramatic." A high-performing school that improves somewhat is less significant in this calculus than a low-performing school that evidences great gains from freshman to senior year. Eli and Edythe Broad, Katzir are living donors who expect a return on their intellectual and capital investment. The Fund is their legacy and Katzir says, and they mean business in every sense of the word.#
For more information visit www.broadfoundation.org.