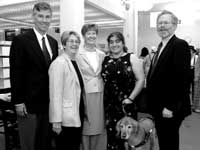 In the Face of Adversity…
by Michelle Accorso
Courtney Gross was born with cataracts. By the time she was eight years old, although she had endured numerous operations, her vision began to deteriorate significantly. Glasses did not help and although she loved reading, she wasn't able to access the books she needed for school. By the age of ten, Courtney was completely blind. Undaunted, her mother, a teacher, enrolled her at the Heiskell Library. Founded in 1895, the New York Public Library (NYPL) has spent over a century expanding its resources to children, teens and adults. With the generous support of the late Andrew Heiskell, trustee of the NYPL, the Heiskell branch located at West 20th Street now also serves as an oasis to the blind and visually impaired. With a passion for knowledge, Gross refused to let her handicap stand in the way of her goals, her thirst for knowledge and her indomitable independence. The Heiskell Library began sending her books on tape and books in Braille, both for her classes and recreational purposes.
"My hope is that people come to appreciate this library and the people who work here as much as I've come to enjoy them," Gross stated.
Mary K. Conwell, Senior VP and Director of the Branch Libraries, commented, "People who read less participate in civic affairs less. That's an interesting situation where I think libraries—a place that engenders civic participation—can really help. The library is a place where people can come together and talk about issues in a neutral place."
A graduate from John Jay College with a masters degree in forensic science, Gross is certainly one of the individuals taking advantage of the many opportunities that the library offers. Her parents never let her use her blindness as an excuse, so at a very young age Gross learned to live independently. With the help of Xavier, her seeing-eye dog that she acquired when she was 18, she made her way to school via public transportation.
As someone who often came across the challenge of organizations refusing to make resources available to her, Gross was still able to take the SATs in Braille. "There's no excuse for not making material available in whatever format someone needs," she commented. Not wanting the SAT's or other exams read to her, Gross has spent her entire life working towards achieving and maintaining independence. "I was always in regular classes. Some kids were understanding and some were cruel. In all honesty, however, in all the cruel people I've encountered in life—and there have been quite a few—they have helped to make me stronger. People sometimes say that if they could do their lives over again they would change so many things...for me, I wouldn't change anything because if anything was different, who knows where I would be right now?"#
More information on the Heiskell library and the many advances of technology for the blind and visually impaired will be continued in the September issue of Education Update.