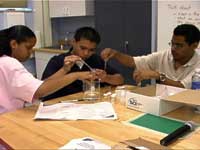 New Jersey Students Work
to Fly High with NASA This Summer
Recently, four students from Williams L. Dickinson Technology Magnet School, a technology-focused high school in Jersey City, traveled to the Johnson Space Center in Houston, Texas to both work and observe as an experiment they designed is carried out in a near-weightless environment.
The students, Carlo Fajardo, 15, Humberto Guzman, 15, Jennifer Rodriguez, 16, and Denise Salinas, 17, who were selected based on merit and success on pervious science-related projects, have been working with their teacher Howard Zlotkin, NASA scientist Greg Vogt and Liberty Science Center educator Rosa Catala to develop the unique experiments. The experiments will be performed aboard a NASA KC-135, a plane that performs a series of sweeping arcs at about 38,000 feet in the air to create short periods of near-weightlessness.
After a rigorous selection process the group selected two projects to test onboard the KC-135. The first, "Effects of Micro-gravity on Bioluminescence," will show if there is any change in the chemical reaction that produces bioluminescence in a near-weightless environment. Bioluminescence is the light produced by the chemical reaction inside the body of a living organism. Viewing the reactions that take place during a number of test flights will complete the experiment. The research will be done in an experiment chamber consisting of two boxes. The primary box is where the actual experiment will take place; the second is the storage where the replacement vials will be.
The second, "Whoa Roaches," will test the effects of micro gravity on the sensory area of Madagascar hissing cockroaches.
During these sessions, students will learn about the scientific process, Micro G and space, with activities conducted to promote cohesiveness and teamwork. Additionally, Liberty Science Center staff scientist Dr. Betty Faber visits the students twice a month to discuss aspects of biological processes and how scientists plan and conduct research.
Since March the students have been visiting Liberty Science Center on a biweekly basis to utilize the center's unique resources and to learn more about their project parameters through special activities designed to enrich and support their classroom curriculum.
This program is the first component of a unique collaboration between Liberty Science Center and NASA, designed to bring the excitement and challenge of science to students, teachers and families through a wide variety of community activities that can be held at Liberty Science Center, then replicated at science centers and museums across the country.#