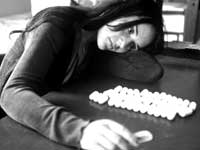 Tense Teen Trek: Maria Full of Grace
by Jan Aaron
Spotlighting a 17-year-old girl from rural Colombia, who drifts into the drug trade, this must-see summer film marks striking debuts for both its writer-director Joshua Marston and lead, the incandescent, Catalina Sandino Moreno, as Maria. A bright, spirited young woman, Maria stays in a brain-numbing job in a rose plantation because her greedy family depends on her minuscule paycheck. But when her boss hounds her to be more productive, she impulsively quits. At the same time, she finds she is pregnant by her deadbeat boyfriend, Juan (Wilson Guerrero), who will marry her because he has to. An offer she refuses.
En route Bogota to look for work as a maid, she runs into Franklin (Jhon Alex Toro), a cool guy she met at a club, who lures her into the drug trade as a highly paid mule, smuggling heroin into the US. His boss, Javier (Jaime Osorio Gomez), a deceptively paternal supplier, gives her a cash advance and explains the rules, downplaying any danger. She also meets Lucy (Guilied Lopez), a slightly older mule, who offers additional pointers. Maria understands the great risks, but views the job, which pays $5,000 per trip, as her only opportunity to survive. The average annual income in Columbia is $1,830.
In the next 24 hours, Maria learns how to swallow 64 heroin filled grape-size rubber pellets. If even one bursts, death is certain. On the tense plane trip with fellow mules, including her best friend Blanca, (Yenny Paola Vega), Lucy feels ill, suggesting a burst pellet. More suspense follows at US Customs: Maria watches as an unidentified mule is apprehended, and she narrowly escapes being x-rayed because agents find she is pregnant.
Their situation worsens when Maria, Blanca and Lucy are held captive in a sleazy motel room until they eliminate their drugs. But Lucy's condition causes brutal consequences and the other girls flee.
The film's final stretch is an intimate portrait of the Colombian community in Queens. Here, Don Fernando (Orlando Tobon) befriends Maria. In real life, a Queens-based travel agent, Tobon has worked on behalf of drug mules and their families since the 1980's. In the end, Maria emerges full of grace and ready for a new life. (Spanish subtitled in English, 101 minutes, R-rated.)#