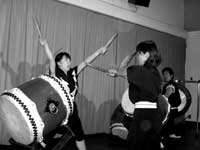 The Beat Goes on with
NYC Teachers & Taiko Drumming at Lincoln Center
by Michelle Accorso
Lincoln Center offered a different kind of summer workshop recently when it invited teachers from New York City public schools to engage in the art of Taiko drumming. Originating in 1943, the Japanese Taiko drumming borrows heavily from martial arts. The drummers yell out commands, much like what one would hear in a karate class, to signify the placement of the next beat.
"Each summer we conduct a summer session, meant to engage the teachers in our educational process so we can create a partnership with that individual teacher and that school to work together during the school year," stated Scott Noppe-Brandon, Executive Director of Lincoln Center Institute, "First and foremost, we hope that teachers take back with them a love for the arts to their classrooms. A major goal is to keep bringing people back to that spirit and motivation of why they became teachers in the first place. Through the world of imaginative possibilities, we really can make a change…with good teaching, good structure, good content; we really can impact the lives of individual students. We think that through this study, we can not only achieve this, but we can achieve it in many, many places."
"I love it. It's electrifying," commented a teacher from Lincoln High School in Yonkers who was chosen to play with Taiko drummers at the workshop, "We have instrumental music in our school and coincidentally a lot of our students happen to favor drums so this is perfect. I'm looking forward to incorporating this into my classes."
Judy Hill, a full-time teaching artist at Lincoln Center Institute, led the workshop by arranging the teachers in a circle and having them imagine two large drumsticks in their hands. "Releasing the sound and releasing the spirit is more important than hitting the drum," Hill explained. She went around the room asking the teachers what they felt after the experiment. "Power," one teacher exclaimed, "It sounds like a conversation going on," said another. "What would you call the piece?" asked Hill. "Voices!" "Talking Drums!" "Rainforest!" "Sandwich!" The answers were as original as the beats being created.
Making sure that arts are not sacrificed in the schools, Taiko drumming is just one of the many summer sessions Lincoln Center offers for teachers to incorporate in their classes for the upcoming school year. Furthermore, New York City teachers are not the only ones benefiting from this opportunity. "We are reaching out to teachers all over the metropolitan area," commented Noppe-Brandon, "And this summer we are fortunate enough to include teachers from literally all over the world.#
For more info about Lincoln Center Institute's Arts in Education visit www.lincolncenter.org.