Estee Lauder & Poly Prep Students "Make a Difference"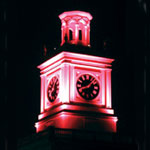 Starting October 1, motorists traveling across the Verrazano-Narrows Bridge may wonder why Poly Prep's clock tower has turned pink. Brooklyn's 85-year-old landmark will be in good company: Niagara Falls, The Empire State Building, The National Assembly in Paris, the Royal Opera House at Covent Garden in London, and Poly's tower will be among the many buildings illuminated in pink light during the month of October—as part of the Global Landmarks Illumination Initia-tive that heralds Breast Cancer Awareness Month.
Poly Prep Country Day School has teamed up with The Estee Lauder Companies Breast Cancer Awareness Campaign to educate the Poly community—and the greater Brooklyn community—and to raise money for breast cancer research. Led by the Senior Health Interns and their program director Patricia Tycenksi-Mastro, students at Poly have participated in educational and fundraising events throughout October for the past four years.
"It's part of our culture now, at Poly, to take time to reflect, to show students that they can make a difference," says Tycenski-Mastro, adding, "Especially with this disease, where early detection means an over 95% cure rate, there's a feeling that the right information really does save lives. That's something young women and men need to know and be part of."
On October 3, the Senior Health Interns will give a presentation to the Upper School that will include readings and information designed to provide appropriate information and some inspiration, so that students can understand the medical facts as well as hear the stories of breast cancer survivors.
On October 7, students will begin the day by participating in the "Ribbon of Light" project, creating a "human ribbon" on the school's playing fields. Throughout the day, and into the evening, groups of people will create such ribbons around the world. "Imagine seeing a huge glowing pink ribbon of light illuminating the darkness," said Evelyn H. Lauder, Senior Vice President of The Estee Lauder Companies and Founder and Chair of The Breast Cancer Research Foundation. "Now, imagine that the ribbon is actually made up of thousands of candles, each held by someone who cares passionately about helping us wipe breast cancer off the face of the earth."
Throughout October, eve-ning visitors to Poly Prep will find pink luminaria lining the steps at the school's front entrance. "Candles are memorials, re-minders of those who have died," says Tycenski-Mastro. "They also honor the survivors, and support those who are fighting cancer today."
Students are already gearing up for Denim Day, October 10, when a contribution to The Breast Cancer Research Foundation gives them a pink ribbon to wear and a free pass to break the dress code for a day and come to school in jeans and a t-shirt.
Finally, Poly's student-athletes will recognize Breast Cancer Awareness Month at their Homecoming celebration this year. On October 25th, all Poly players on both girls and boys teams will wear pink ribbons or have pink ribbons stamped on their uniforms.
"We've raised over $4,000 in the past four years to support The Breast Cancer Research Foundation," said Tycenski-Mastro. "But what's more important is that we talk openly about breast cancer, which I don't think is done in many high schools. Information saves lives. Our students know this. What could be more important than that?"#
Founded in 1854, Poly Prep Country Day School is a co-educational, college preparatory school located on a 25–acre wooded campus in Dyker Heights. The school enjoys a long and distinguished history as one of the preeminent educational institutions in New York City. Poly's student body reflects the great urban diversity of Brooklyn and New York; students travel to the school from four boroughs on Poly buses. Typically, all of Poly's graduates attend four-year colleges.

Education Update, Inc., P.O. Box 1588, New York, NY 10159.
Tel: (212) 477-5600. Fax: (212) 477-5893. Email: ednews1@aol.com.
All material is copyrighted and may not be printed without express consent of the publisher. © 2003.
---