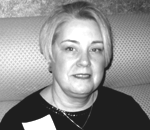 Guardian Life's Patricia McNeilly Helps Girls Entrepreneurship Conference
by Pola Rosen, Ed.D.
At a recent meeting of 25 women business executives and college leaders from Montclair State University, preparations were made for the first Teen Entrepreneurship Conference called Girls Going Places. The conference, a first for Montclair State U. and New Jersey, attempted to provide mentoring, knowledge and advice to high school girls who are considering careers as entrepreneurs.
The women advisors represented a range of ages, careers and ethnic backgrounds providing a wonderful resource for the teens. Esmilda Abreu, the Director of the Women's Center at Montclair State University, holds an MA from Teachers College and plans events for undergraduates as well as the community at large. Born in the Dominican Republic, Abreu has a keen awareness of the needs of girls as well as minority students.
Patricia McNeilly, who brought this program to New Jersey, also arranged for the Guardian Life Insurance Company to fund $30,000 in scholarship monies for the girls. The other corporate partner is Independent Means, a company based in Santa Barbara, California.
There are about 50 participating high schools in New Jersey with about 100 attendees, who interviewed women in business, developed a "product in a box," an exercise in which girls built a product line and decided to whom they would sell it and at what price.#
Email us at pmmcneil@planningalliance.com or visit us online at our website at www.independentmeans.com.

Education Update, Inc., P.O. Box 1588, New York, NY 10159.
Tel: (212) 477-5600. Fax: (212) 477-5893. Email: ednews1@aol.com.
All material is copyrighted and may not be printed without express consent of the publisher. © 2003.
---