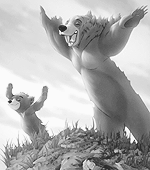 Disney's Brother Bear
by Jan Aaron
The tale of three brothers in the Pacific Northwest, set at the end of the Ice Age, Disney's Brother Bear, starts and ends with prehistoric story telling and ancient rites. The film's mystical story might be too complicated for the very young filmgoers. Beautiful wide screen visuals, handsome animation, and six new tunes by Phil Collins, including the legendary Tina Turner singing Collins' "Great Spirits," make it memorable.
In a nutshell: The youngest of three bickering brothers, Kenai, (voiced by academy award nominee, Joaquin Phoenix) is peeved about the totem he has received to mark his passage to manhood: a carved bear representing "love." He thinks it's not as noteworthy as the eagle totem sported by his oldest and bravest brother, Sitka.
Foolishly, Kenai takes off after a bear that has stolen a basket of fish, and brave Sitka sacrifices his life for his brother while trying to kill the bear. The bear survives, and ignoring his elders, Kenai seeks revenge. When the northern lights send heavenly rays down to turn the feisty boy into a bear, the middle brother, Denahi, thinks Kenai is also dead, so forsaking his peaceful philosophy; he sets out to get the killer bear.
Now, the screen expands into an enchanted wood with vibrant colors where animals can speak to each other (but not to people) and two bickering moose are standup comedians using contemporary slang, like "hey, dude," ultimately becoming tiresome. Kenai, once a foolhardy boy, has become a cowardly bear. Counseled by a woman shaman to seek Sitka's spirit atop a mountain, the scared bear grudgingly hooks up with a spunky cub, Koda, (voiced by Jeremy Suarez) who hopes to find his mom at the big salmon run near the mountain. They survive terrible perils, traipsing through glacial caverns, frozen tundra, a sulfurous geyser field, and great gorges, hitching rides on woolly mammoths. They are warmly received at the salmon run from bears gathered there. Eventually reaching the sacred peak, Kenai finally also attains enlightenment.#
Rated G; 82 minutes, call 212-777-Film for more information.

Education Update, Inc., P.O. Box 1588, New York, NY 10159.
Tel: (212) 477-5600. Fax: (212) 477-5893. Email: ednews1@aol.com.
All material is copyrighted and may not be printed without express consent of the publisher. © 2003.
---