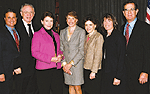 Women's Health Symposium at Weill Cornell Medical College
by Jocelyn K. Egyes
"Heart disease is the number one killer of men and women," said Dr. Lisa Callahan to an auditorium full of women at the 21st Annual Women's Health Symposium in New York. "If you are not worried about the disease, take a look at your family tree." Thus was launched the Symposium, an educational outreach program to provide a forum for women to increase knowledge about health wellness. This year it was titled: Stress: RX for Relief, and included a discussion of how stress affects weight loss, sleep, and the importance of exercise.
Callahan, Founder and Medical Director of the Women's Sports Medicine Center at the Hospital for Special Surgery and Assistant Professor of Clinical Medicine at Weill Cornell Medical College, continued, stressing that exercise can help reduce the risk of heart disease by 40 percent.
"Exercise is good for everything," said Callahan. "You cannot come up with a disease that exercise is not good for."
Moderator and President and CEO of New York-Presbyterian Hospital Dr. Herbert Pardes said stress is a central issue because of our fast moving society, terrorism threats, security, SARS and additional concerns. "Information is the number one tool to make choices about our health," said Pardes.
Dr. Orli Etingin, Vice Chairman of the Department of Medicine at New York-Presbyterian Hospital said "chronic stress has major health effects on all of us."
"I'm always under a lot of stress," said Carol Willumstad who attended the symposium. She said she is stressed because of lack of time and everyone pulling in different directions. "I come every year and I feel whatever the topic is, there is always something for everyone. They are not an overview, you always get hands on, useful information."
Dr. Louis J. Aronne, Clinical Associate Professor of Medicine at Weill Cornell Medical College, has done 17 years of research on the difficulty of losing weight. "This is not just bad behavior," said Aronne. "There are physical and physiological reasons. Just telling someone to go on a diet and exercise is not the answer. It's what kind of diet and what kind of exercise. It is important to choose an exercise you enjoy. Exercise is not about being thin; it's about taking care of yourself."
Dr. Neil Kavey, Clinical Professor of Psychiatry and Director of The Sleep Disorders Center at Columbia College of Physicians and Surgeons discussed the importance of getting enough sleep. "Sleep is an active, complex, physiological and biological process, essential for survival." Kavey said not having enough sleep puts the body and brain under stress. He said catching up on sleep during the weekends is good, but it is important not to ignore the need for sleep during the week.
Symposium attendees had various reactions to the presentations. Elba Montalvo felt the speakers "presented it [information] in a way that spoke to me as a working woman." She said she really appreciated the connection between the three lecturers. "It's not just exercise and eating right," said Montalvo. "It's exercise, eating right and sleeping."
Mary Susnjara said the program changed her way of thinking. "I am going to carve out some time to do exercise in the morning. I think it is very important and I think this might just give me the incentive."
Carol Kekst said she enjoyed the speakers. "We are lucky that so much more research allows us to know so much," said Kekst. "Now I have no excuse—I need to take charge of my day and take charge of myself."#

Education Update, Inc., P.O. Box 1588, New York, NY 10159.
Tel: (212) 477-5600. Fax: (212) 477-5893. Email: ednews1@aol.com.
All material is copyrighted and may not be printed without express consent of the publisher. © 2003.
---