CCNY-Austria Educational Collaboration
by Pola Rosen, Ed.D.

President Gregory H. Williams of the City College of New York, welcomed a meeting of college personnel and high level Austrian education ministers, quoting a letter from Mayor Bloomberg that thanked the Austrians "for providing New York City with outstanding math and science teachers to our secondary schools during a critical time of the rebuilding of our school system." Originally focusing only on math and science teachers, the program now includes Austrian teachers in other areas of need. The Austrian government is now funding science research across the Atlantic. The mayor also thanked Minister Elisabeth Gehrer for shepherding the many cooperative, educational programs created during her tenure as minister.
The academic exchange was created by Dean Alfred S. Posamentier, who began the linkage during the 1990 fall semester when he was a Fullbright Professor at the University of Vienna. Dean Posamentier wasted no time in establishing important links with Minister Elisabeth Gehrer, Fe-deral Minister of Edu-cation, Science and Cultural Affairs in Austria. Since 1998, 220 Austrian teachers have been teaching in NYC. Currently ninety still teach in New York City schools. The "Au-strians" this year in-clude Hungarians, Slovaks, Germans, and other neighboring countries.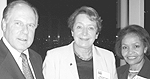 In a personal interview with Minister Gehrer she explained that there are quality standards for students after ages 10, 14 and 18 years. If the standards are not attained, students must repeat one year. Vocational training is a serious option for students at the age of 14 and leads an apprenticeship program, which is highly regulated by the schools.
Dean Posamentier also mentioned that CUNY's only offshore master's degree, which is given in three cities in Austria, is still flourishing after almost ten years of operation. This program is for Austrian teachers of English to earn a CCNY master of arts degree. CUNY professors teach blocked courses between semesters. During her visit to City College, Minister Gerher, in an effort to advance the cooperation between institutions, offered to cover the cost of six visiting professors who would each spend one semester teaching and doing research at CCNY.#

Education Update, Inc., P.O. Box 1588, New York, NY 10159.
Tel: (212) 477-5600. Fax: (212) 477-5893. Email: ednews1@aol.com.
All material is copyrighted and may not be printed without express consent of the publisher. © 2003.
---