Would You Recognize a Troubled Teen?
One of the difficulties parents and educators face when dealing with adolescents is recognizing the difference between a teen going through the normal rebelliousness of adolescence and a teen who is heading down a destructive path. Adults often struggle to find a balance between giving adolescents some necessary independence and reining them in when they push the boundaries of acceptable behavior. Although some parents may be tempted to compare their teen's behavior to other teens to decide if their behavior is appropriate, remember that one teen's innocent rebelliousness can be another's doorway to truly self-destructive behavior. The teen that wants more privacy is not the same as the teen who sneaks around or lies about their activities. If you believe your child is heading in the wrong direction, trust your instincts and take action before the situation deteriorates.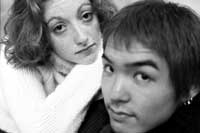 The parent who decides to confront behavior head on will inevitably see the tension in the home exacerbated. Your increased interest in your child's activities will be met with suspicion and hostility. You need to prepare yourself for your child's counterattack. First, honestly appraise the situation; do not just examine your teen's behaviors, but your own actions in response to them. When you have implicitly given permission for negative actions by simply ignoring them? When have you not followed through on enforcing the consequences for unacceptable behavior? An honest examination of the communication between you and your teen will help you avoid the same mistakes in the future.
Parents' delay in getting help when they write off problems as "just a harmless phase." For every teen that pushes the edge and sees little or no consequences, there is a teen that has been expelled from school or put into a compromising or dangerous situation because they are under the influence of drugs or alcohol. Never assume teens that are acting out have the skills and self-knowledge to change on their own. As the parent, you can even be held legally responsible for your child's behavior in some circumstances. If you approach the problem with this in mind, you will more fully grasp how essential your guidance and discipline is.
Because adolescence is a time of a changing sense of self, your teen is probably less and less inclined to allow you to make all their decisions for them. There is nothing wrong with letting your teen make mistakes. The issues arise when those mistakes are dangerous to them or others.
If you feel your adolescent is out of control, there are many resources available. Counselors who specialize in child behavior can help parents decide a course of intervention. In cases where the child's behavior has become extreme, many parents find that residential programs are the most effective. The child can no longer be influenced by the negative peer group or manipulate their parents and teachers.
Therapeutic wilderness programs can be highly effective in transforming behavior. These experiential programs teach primitive wilderness skills, responsibility, and the consequences of negative behavior, and they help the child improve self-esteem and self-confidence. Therapeutic boarding schools that emphasize emotional growth as well as academics can help turn around both behavior and school performance of a troubled teenager. Children with learning disabilities greatly benefit from the individualized academic attention they receive in these schools.
Aspen Education Group has proven programs that can help adolescent children who have self-defeating behaviors, learning disabilities, and substance abuse issues. These intensive programs can quickly narrow down your child's issues to help him or her get back on a positive life path.#
Visit http:/www.aspeneducation.com or call (888) 972-7736 for more information.

Education Update, Inc., P.O. Box 20005, New York, NY 10001.
Tel: (212) 481-5519. Fax: (212) 481-3919.Email: ednews1@aol.com.
All material is copyrighted and may not be printed without express consent of the publisher. © 2003.
---