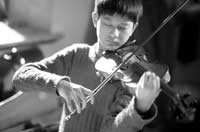 Together Features Beijing Symphony
by Jan Aaron
First we meet Liu Xiaochun (Tang Yun), the 13-year-old prodigy violinist featured in Chen Kaigeís, Together. He is living in a provincial town where his father, Liu Cheng (Liu Peiqi), is bringing him up. From here, the two travel via calm, idyllic waterways to hectic Beijing. Because the teen won a music competition, they are heading to an audition at a music school there. The film swirls with Western classical music throughout. It contrasts the old lanes of Beijing with its new sleek luxury malls.
From the moment they arrive at the train station, young Xiaochun is introduced to a hard-edged new world as he watches a brash call girl, Lili (Chen Hong) bid her latest fling a noisy farewell. Though he places high in the music competition, the youngster canít study at a state run school because he lacks a local residency permit. He is able to stay unofficially and study with a private teacher.
This is the untidy, eccentric Prof. Jiang (Wang Zhiwen). Reduced to tutoring spoiled untalented rich-kids, he welcomes the gifted youngster. The unconventional professor tutors his student in classical music, while the boy teaches him to be tidier in the home he shares with many cats. Settling in by chance in an apartment near Liliís, the father works as a bicycle deliverer and the teen, when not studying violin, is caught up in Liliís world.
When Xiaochun falls out with his old tutor, his father arranges for him to study with the celebrity-maker, Prof. Yu (played by the director) who coolly pits Xiaochun against his girl pupil (Zhang Qing) and turns him against his father. Tang, a violin student himself, plays the prodigy perfectly.
The movie could do a better job of showing Xiaochunís surprise and growth in the big city. Its ending has everyoneóthe father, the old tutor and Liliópulling together for a life nobler than a super star violinist. (118 minutes, in Mandarin with English subtitles, PG).
Also see LíAuberge Espangole (The Spanish Inn, in French with English subtitles), a peppy preppy comedy that puts a mixed group of grad students together in a study abroad program in Spain.#
For information on film times and locations call 777-FILM.

Education Update, Inc., P.O. Box 20005, New York, NY 10001.
Tel: (212) 481-5519. Fax: (212) 481-3919.Email: ednews1@aol.com.
All material is copyrighted and may not be printed without express consent of the publisher. © 2003.
---