Stanley Teitel: CCNY Alumni Association's Educator of the Year
by Alfred S. Posamentier, Ph.D.
At the National Arts Club, The City College of New York Education Alumni Association honored one of its outstanding graduates, Stanley Teitel ('71) with its Educator of the Year award. Mr. Teitel is currently principal of Stuyvesant High School, a position he has held since 1999.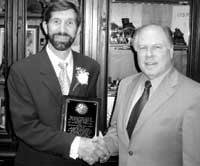 Mr. Teitel demonstrated early on that he had a penchant for the study of science—in fact he has always professed that Albert Einstein was his hero. As a young boy growing up in Brooklyn in the 1950s Mr. Teitel attended P.S. 221 and Lefferts JHS. He entered countless science fairs and even won awards. He was presented with a NYC medal of achievement in science from Mayor Robert F. Wagner. When his family moved to the Rockaways in the 1960s, Mr. Teitel studied Marine Biology at Far Rockaway High School. His talent in Biology led him to attend the prestigious City College of New York where he majored in Biology/Chemistry. After receiving his BA, Mr. Teitel pursued his calling to educate youngsters in New York City and took a Master's Degree in Science Education from Brooklyn College. He also holds a master's degree in Administration and Supervision from Manhattan College.
On November 7, 1971 Mr. Teitel started a career in teaching that culminated 32 years later with the principalship of Stuyvesant High School. At William Howard Taft High School in the Bronx, he served as Coordinator of the College Bound program for students who ordinarily might not have chosen to pursue higher education. He left in 1983 when he was recruited by Stuyvesant to teach Chemistry and Physics, Advanced Placement Physics and mentor Independent Student Research. Under his tutelage, many students entered the Westinghouse Science Talent Search competition and other nation-wide science contests. His work as a science educator was so highly regarded that in 1997 he was selected Assistant Principal of the Department of Chemistry/Physics. In just two short years, on August 25, 1999, he rose to become leader of Stuyvesant where he supervises over 150 pedagogues and monitors the education of over 3000 of our "best and brightest" students of New York City.
He is currently an active member in the National Science Foundation, the Science Teachers Association of New York State, the National Consortium of Specialized Secondary Schools in Mathematics, Science and Technology, and the Science Council of New York City. Currently, he is serving as leader of the ad hoc committee to improve the results of the Physics Regents for all of New York State.
In January 2003, Stuyvesant had 19 semi-finalists in the Intel Science Talent Search, more than any other high school in the nation. Eventually, three Stuyvesant students were selected as finalists in this highly competitive contest. In addition, students win countless awards in the humanities, including poetry contests, the Bertlesmann Awards for Fiction Writing, Speech and Debate national competitions, and Columbia National Press Association Awards for the school newspaper, The Spectator. Mr. Teitel's continued excellent "hands-on" leadership has allowed Stuyvesant High School to maintain its standing as the best public high school in the Metropolitan area.#
Dr. Alfred S. Posamentier is the Dean of Education, City College of New York.

Education Update, Inc., P.O. Box 20005, New York, NY 10001.
Tel: (212) 481-5519. Fax: (212) 481-3919.Email: ednews1@aol.com.
All material is copyrighted and may not be printed without express consent of the publisher. © 2003.
---